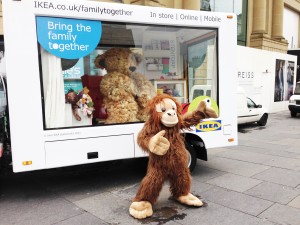 Ikea has unveiled a new integrated brand campaign for the UK and Ireland encouraging adults and children to spend time together.
The campaign, which explores the insight that children want to spend more time with their parents, whether it's being at home doing something like baking or just relaxing, is set to launch on Monday 21 October with a three-minute 'day in a life' documentary of the Lim family created by Mother.
Peter Wright, Ikea UK and Ireland marketing manager, said: "We want to show that Ikea understands how people live at home, what challenges the home has, especially when the home needs to work for both children as well as adults. This is where we believe we have the knowledge and solutions, our range of products are designed to let children and adults be together, whether it's having fun, socialising or being creative, it is possible to make the home to work."
The theme of the campaign is set to run throughout the website, including a content hub featuring the re-run of the TV commercial of a family gathered around the dining table, an online brochure with tips for parents and children to enjoy time together, and other movies with handy tips for furnishing a home with children.
Ikea has also worked with bwpPrimal to create 'pop-up moment areas' in shopping centres to allow parents time out with their with their children to make tin-can robots, listen to a story time classic, or try some giggle yoga.