Ambuja Cement has put forward the benefits of its strong cement with a spot showing the destructive (if accidental) tendencies of former WWE wrestler The Great Khali.
The slot, which mustered over half a million views in the space of three days, mostly in India, shows the colossal grappler's everyday struggles as he smashes through the walls (and floors) of his poorly constructed house.
The creative from Publicis puts forward the solution for Khali's problem: using Ambuja Cement in the construction of his house.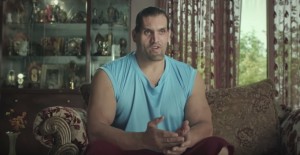 Bobby Pawar, managing director and chief creative officer of Publicis Worldwide South Asia, told Campaign India: "Ambuja Cement has been about this giant strength and it has been communicated in previous campaigns. We put one [Ambuja's] strength against the other… the biggest Indian, The Great Khali. It's a mockumentary on his life, a hilarious take on what his life would have been like, in a home that's not built to handle his strength."
Credits:
Client: Ambuja Cement
Marketing head: Vivek Deshpande
Agency: Publicis
Managing director, CCO: Bobby Pawar
ECD: Jigar Fernandes
Account management: Paritosh Srivastava, Chandan Jha
Production house: Early Man Films
Director: Ayyappa