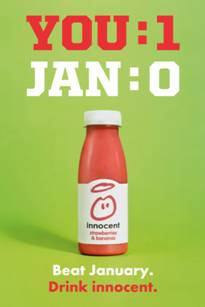 This January, innocent launches a new £1.1 million multimedia campaign focusing on their on-the-go smoothie range to assert the healthy role innocent smoothies play with 2 of your recommended 5-a-day squeezed into every bottle.
Innocent enjoyed a very successful 2012, with their juice and smoothie ranges growing 42%, helping to secure an annual turnover of over £235 million.  To continue to drive this momentum in the chilled drinks category, innocent will be committing £14 million behind brand investment.  The first campaign of 2013 will target shoppers and commuters on-the-go with engaging press and outdoor adverts and exciting digital activities.  A unique hub on the innocent website contains fun, interactive games which consumers can use to feel good about themselves and share with their friends online.
Developed by the in-house team at innocent, the bright, simple and uniquely innocent campaign communicates health messages in a natural way, and aims for consumers to have fun and feel good about themselves by drinking an innocent smoothie. The 'ATL' activity will also be supported with shopper marketing and strong in-store promotions.
Douglas Lamont, marketing director at innocent had this to say, ""New Year is a key time for us; it is when consumers reassess their habits and look to make healthier choices. Innocent has a unique position appealing to consumers who are looking for more ethical and engaging brands and we are focused on encouraging them to do themselves some good, and showing how easy it can be.""