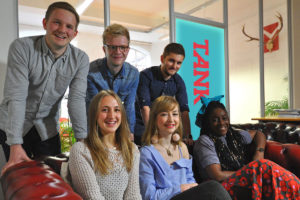 Six people have joined the ranks of digital PR agency Tank, following a significant number of new international client wins.
Based in Nottingham's Lace Market, Tank provides PR, digital and social media services to a variety of high profile brands across the UK. Its rapidly expanding portfolio also means the agency now operates for clients in the US, with a presence in California, Texas and New York.
International client wins include a prestigious NYC-based brand and experience design agency, as well as growth of existing clients which have expanded their operations from the UK into North America.
PR account manager Addie Kenogbon comes to Tank with four years' agency experience, having worked with clients in finance, law and property.
"I've joined Tank at a really exciting time, particularly when we're increasingly managing campaigns across the pond – without forgetting the local firms we work with here in the East Midlands too of course," she said. "Tank is a really ambitious agency which is continually expanding its digital content offering, and I can't wait to be a part of the success in the coming months."
Addie, and the wider senior management team, is supported by four new account executives, Damian Summers, Eileen Pegg, Molly Bingham and Ed Sheldon.
With demand for online content and technical services growing rapidly, Tank has also recruited digital executive Dexter Reeds, a recent De Montfort University graduate, to its now five-strong digital department.
Trevor Palmer, Tank's director and founder, explained that the appointments mean the agency now has greater capacity to handle the influx of new business.
"In the past year, we've seen significant growth across all areas of the business, particularly on the digital side," he said. "Much of this has come from new wins – but many of our existing clients are increasingly engaging our services as they see the power of combining traditional PR with digital. It's always good to see the office filled with new faces, each bringing new ideas, skills and experience, so I'd like to welcome our latest cohort to Tank."
In the PR Week Global Agency Business Report 2017, Tank ranked 70 in the top 100 UK consumer PR agencies, placing 168th in the overall best agencies listing too. Tank was the only East Midlands PR agency, and one of four Midlands PR agencies to feature.
Source: Tank