Samsung has produced a new piece of online content to coincide with today's launch of its flagship Galaxy S6 and S6 edge phones. Created by Cheil UK, the video features UK star and host of 'The Late Late Show' James Corden.
The 'James and Wilf' material has gone live across Samsung's owned media, digital and social channels to complement the Samsung global created TV ad spot.
Using Corden to bring out the personality of Samsung through a humorous 60 second video, he adopts two personalities to promote the new phones. He plays himself and 'Wilf', a hipster director alter-ego who is focused purely on style and looks. It opens with Corden, dressed in a smart suit, highlighting the phones' Fast Charge and wireless charging capabilities, and the ergonomic metal and glass design.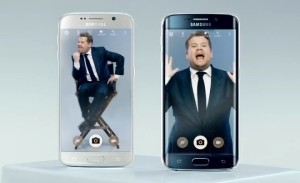 Cheil UK is responsible for the creative concept and campaign execution. Production support was provided by Radical Media and Fulwell 73, and media planning was handled by Starcom.
Russell Taylor, chief marketing officer, Samsung Electronics UK and Ireland, said: "The new Galaxy S6 is the most important phone launch for Samsung this year. Because of this, we need a way to communicate not only the design and quality of the two phones and their innovative features, but also entertain and engage our customers. We feel we have really captured this, and our brand personality that comes across via this content is humorous, tongue-in-cheek and timely – with the use of man of the moment James Corden."
James Corden commented, "I've had so much fun making this video with Samsung, 'Wilf' the director was a great character to play."
Matt Pye, COO at Cheil UK, added: "James is real hot property right now, following his star turn as the host of The Late Late Show in the US. He's king of the latest viral videos, and it made perfect sense to use his unique comedy gifts, personality and charisma to launch Samsung's most revolutionary smartphones to date. The video is fun, engaging and shareable – and will give the S6 some serious clout on launch day."