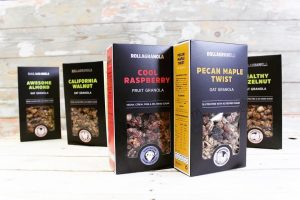 Kazoo Communications is going nuts about its latest partnership with coolest granola brand in the market right now, Rollagranola. The agency will run the brand's first ever PR programme, helping drive brand fame and commercial success.
Kicking off with a celebration of Rollagranola in industry press, the PR programme will drive brand and product recognition across consumer and trade media.
Starting on local market stalls just four years ago, Rollagranola has skyrocketed into the UK. It is now represented by Ocado, Planet Organic and globally in Joe and the Juice, with lots more stand-out listings to come.
Robin Longden, Founder of Rollagranola said, "Kazoo demonstrated a deep knowledge of start-ups and the food industry, providing us with the perfect partner as we make our first step into PR."
Lifestyle Director at Kazoo, Delilah Pollard, said: "There are lots of granola brands out there but Rollagranola is the only solution that is genuinely good, natural and healthy. We can't wait to take Rollagranola into the media and get some outstanding results for them. You might think granola is just for breakfast, but you'd be wrong. We've dedicated our 11am and 3pm snacks to this delicious nutty treat from Rollagranola."
Source: Kazoo Communications