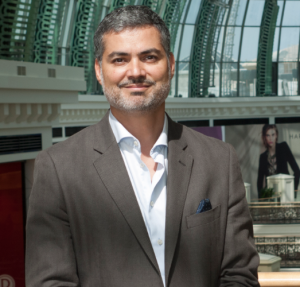 Award-winning, international branding agency, Lambie-Nairn, has announced the appointment of Andy Hayes as its new Managing Director Northern Europe and Middle East. His move marks a promotion from his current role of Regional Director in the Middle East.
In his new role, based in London, Hayes will continue to oversee the Lambie-Nairn business in the Middle East, Africa and India; working for clients such as Saudi Telecom and Dubai Tourism. He will also be charged with overseeing work for clients within the Northern European region, with a focus on UK and Germany. Hayes will be responsible for ensuring the continuation of excellent work for clients, as well as taking the lead in developing their offer to grow the business. Hayes replaces Lisa Hill, who is leaving for a new opportunity after nearly seven years at Lambie-Nairn.
Hayes joined Lambie-Nairn's London office in 2006 as Senior Client Director for clients including Sainsbury's, BBC, Aviva, Electronic Arts, Sunrise Telecom and Carbon Trust. In 2009, he established a Middle East office in Abu Dhabi, taking on the role of Regional Director Middle East. During his time with Lambie-Nairn, he has built up the business in the Middle East accounting for 16% of company revenues, with clients including flydubai, Katara Hospitality, Saudi Telecom and Dubai Tourism.
Jim Prior, CEO of Lambie-Nairn, said: "Through the growth and development of our business in the Middle East, Andy has proven himself to be a dynamic, intelligent and confident leader. I am delighted to have him take on this expanded role and have no doubt that he will add great value to our business and our clients in Northern Europe, just as he has in the Middle East. "
Andy Hayes, new Managing Director of Northern Europe & Middle East, comments on his new role: "I'm thrilled to take on this new position at Lambie-Nairn. It's a fantastic opportunity now to take a leading role in evolving our offer and demonstrating the value we bring to our clients, from creating and activating great brands, to our unique Brand Optimisation offer."
Reporting into the agency's CEO, Jim Prior, Hayes will officially start his new position on Monday 15 November 2015.