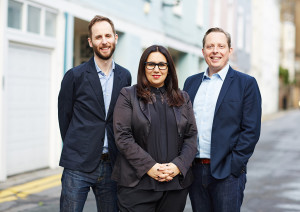 Leo Burnett announces the appointment of Chaka Sobhani to the role of chief creative officer. Chaka joins Leo Burnett London from Mother.
Chaka brings with her 20 years of experience from both the Advertising and Broadcast industries, notably setting up ITV Creative and becoming their first creative director.
She started her career as a comedy and performance writer in the broadcast arena which led to her joining US network Fox, creating their branding and advertising as they successfully launched their kids channels across Europe and the Middle East.
Chaka went on to write and direct film and content for ITV, becoming the creative director of ITV Creative, ITV's in-house agency. Chaka built up ITV Creative to over 100 staff, overseeing innovative multi-platform ideas in every channel from TV, film, digital, experiential and social.
Whilst at ITV Creative, Chaka was responsible for creating campaigns for many of the channel's top drama, entertainment and sport shows as well as the branding for all the ITV channels and platforms. As an award-winning director, she directed campaigns for Jonathan Ross, Ant and Dec, The Brits, Secret Diary of a Call Girl, Coronation Street, Emmerdale and Girls Aloud during her time at ITV Creative.
From ITV Creative, Chaka moved agency side to join Mother in 2013.
Paul Lawson, CEO Leo Burnett said, "Chaka's pedigree marks her out as a very contemporary and exciting creative leader. Her background is unique, having worked both agency and client-side, as well as being highly experienced in production and an award winning director too. I believe she is the perfect fit for our ambitions. She has bucket loads of charisma and enthusiasm to engage and inspire and she commands great loyalty from colleagues and teams alike. I know we're going to enjoy working together."
Chaka Sobhani said, "What can I say, it's an utter privilege to join an agency with such heritage and hutzpah, and with so many cracking people to boot. Big brands, big ambitions and big hearts. I'm a very lucky girl. Can't wait to get stuck in."
Mark Tutssel, Chief Creative Officer Leo Burnett Worldwide said, "Chaka is a rare talent, a different flavour of CCO, who's non-traditional mix of experience is perfectly matched to the transformational needs of progressive clients."
As chief creative officer, Chaka will partner with Paul Lawson, CEO, Josh Bullmore, chief strategy officer and Sarah Baumann, deputy CEO, on the Agency's Senior Leadership Team.