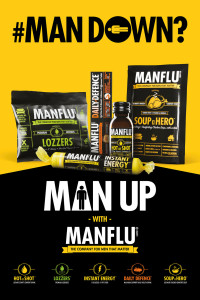 MANFLU, the company for Men that Matter, are set to introduce their first outdoor Above the Line campaign. The activity, created and delivered by sports and health creative agency, Matta, will encourage that where there's a 'Man Down', then MANFLU are on-hand to help you 'Man Up'.
Amplified on social media via the designated #ManDown hashtag, the six sheet campaign will run across more than 80 towns and cities UK-wide from Dec 14th for three weeks.
The MANFLU range is a set of products designed to offer more than just comfort and sympathy to those men who are struck down by illness during the winter months. From maximum dose vitamin C in their 'Hot or Shot' drink to their new 'Soup A Hero' Chicken wellness soup, MANFLU equip men with the tools to help battle back against elements and ailments.
Matt Hunt, Strategy & Design Director at MATTA, said: "We're delighted to be working alongside MANFLU, they're a unique, innovative brand, so it's a real pleasure to produce their first above the line, outdoor campaign. The majority of modern men are known for our inability to deal with winter illnesses such as 'man flu', but with our work sweeping the country over the next few weeks, we'll be helping to spread the message that thanks to MANFLU, there is help out there!"
Jonathan Evans, Founder of MANFLU, said: "I'm very excited by this campaign, a first for the brand and something that will help raise awareness of the MANFLU range at a timely point in the year, a time when men want to feel on top of their game and fighting fit over the festive period. We're here to help them, and the women in their lives, with brilliant products to help make their life a little easier this winter."