MarComm's Star Parade is a series where we shine the spotlight on some of the global stars from the Marketing and Communications industry, and Sarah Fleming, Founder of The Right + The Left  is precisely that.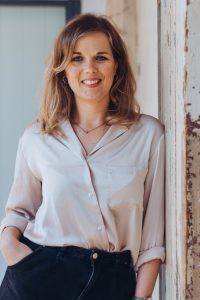 Q) Give us a brief insight into your career so far?
I was lucky to have discovered the possibility of a career in advertising early enough that I studied it at university and took a graduate role in Client Services at McCann Manchester. Over a stint of 12 years, I learnt the ropes, worked across every sector under the sun selling clothes to lightbulbs, pharmaceutical medications to holidays – and eventually honed in on my 'zone of genius' (more about that below).
Somewhat unusual for an agency outside of London at the time – the creative, media planning, CRM / data teams and production studios sat in one location. It made for a great place to learn but also to work at the intersection of creative, media, channels and data. I saw how clients and agency teams alike often struggled to join up the dots to deliver integrated customer experiences and campaigns – and over time spent more and more time with clients, in their businesses, helping them to do just that.
I then left McCann and set-up The Right & The Left to help brands and businesses craft connected marketing strategies. Today, I spend my days helping brands (including JD Sports, Stonegate Pub Group, THG and Edwards Lifesciences) understand the world they're existing in and what they need to do to better connect with their customers. It's a mix of insights, marketing / commercial strategy, and comms planning.
Q) What according to you is the strongest tool in your skill set?
In hindsight there were a lot of signs and feedback from people that should have directed me to this a lot quicker than I got there myself! But luckily a good few years back I was given a copy of The Big Leap. I sceptically read what looked to be a very American self-development book stuck in the 90s. The author introduces a concept: your 'zone of genius', of the importance of finding it, and the importance of using it throughout life.
It was this that got me honing in on my own 'zone of genius' – my ability to look at even the most complex of brands at a big picture level, dig into what's going on and join the dots – whether that's through insights to get them to a new positioning or joining siloed channels, content and messaging across the customer journey. It has without doubt become my strongest tool and the way I make the biggest impact on the businesses I work with.
Q) What is your favourite piece of work that you have created? Or a favourite project that you were a part of?
A lot of the time I'm taking clients' challenges and providing a new lens or angle to look at them through. My greatest fulfilment often comes not from the end output, but from those 2 second moments where you see a spark, a realisation or excitement at what they can now do with their brand. I've had two only this week with an audio tech company (Warwick Acoustics) who've now realised the magnitude of what they've engineered, and a major streetwear retailer (JD Sports).
Aside from that, I have done a lot of work within health from pharmaceutical companies including Roche and Takeda to med tech (Edwards Lifesciences, Abiomed), consumer health (THG, Durex) and pharmacies (Well).
Whilst the pharma industry gets a bad rep, it does some amazing work behind the scenes. One of my favourite projects was for children with ADHD (for Shire Pharmaceuticals now part of Takeda). We created story books that helped children talk about, and better understand their condition and why they felt so different, using animals to personify some of the ways the disease manifests itself in what they say, do and feel. At the time it was innovative, and required a deep understanding of the condition through the eyes of a 7 year old to ensure the books connected. The process of meeting children and their families to build that insight, knowing we were doing something of real value, is something I'll never forget.
Q) What is your favourite piece of work you wish you had done?
The work I love is the work that makes you smile to yourself because the insight behind it is so true of whichever group of humans it's trying to connect with. A favourite example that I think really did this was Sport England's This Girl Can. The fact it has run for several years and remains relevant, is testament to the thinking behind it.
Q) Who (if anyone) has been the greatest influence in your career?
I very much doubt he'll ever see this, but the first major influence was actually my art teacher at high school. He opened my eyes up to turning something I was talented at, but saw as a hobby, into the possibility of a real career. Early on, he gave me many windows into the creative industries, particularly advertising, endless opportunities and faux briefs (I wanted to be an architect!).
The other person who deserves a lot of credit is my first boss. He very much created a culture where thinking and ideas could come from anyone, regardless of job role – and encouraged me to follow what I was good at.
Q) What would you change about the industry, if you could?
In my earlier years, I found the industry as a whole to be quite pigeon-holed. Once you were in a department in an agency, it was hard to step sideways, or try something different.
I now spend some of my time mentoring people in the early years of their careers through programmes including Bloom North and Who's Your Momma – and it's something I'm still seeing a lot of people struggle to navigate. I really encourage everyone to explore the things that truly interest them, that they're good at, and to never feel like they're stuck on one path. I guess in other words, to find their own 'zone of genius'.
Q) Tell us something that people wouldn't necessarily know about you?
I think I'd already given that one away – I was all set to be an architect. For now, I'll settle with some renovation projects instead.
Sarah Fleming is  Founder of The Right + The Left