Debuting in more than 45 countries, Mastercard's brand ambassadors from across multiple sports are coming together for the first time ever in a new digital-first creative effort, fittingly themed, "Together, Everything is Possible."
This latest Start Something Priceless effort by McCann XBC, uses the universal passion around sport and its inherent values of teamwork, sportsmanship, generosity and inclusion to demonstrate that it only takes a moment to connect with people to make a greater impact. 
The creative shows athletes Lionel Messi, Neymar Jr, Dan Carter, Bryan Habana, Annika Sorenstam, Ana Ivanovic and Valeri Kamensky connecting with each other over social media and using their Mastercard tap and go payment products to chase a red ball across continents and cultures to make sure it gets back to its owner.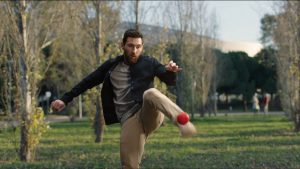 First, in a subtle and more functional way, the creative highlights that it only takes a moment (a quick tap) to make a connection – a seamless and secure payment. On an emotional level, the film demonstrates that it only takes a moment to make a human connection too, thus to Start Something Priceless.
By bringing together its regional teams and agency partners, Mastercard has delivered a global campaign that's also locally relevant, establishing a new benchmark for how a global brand can create a universally relatable and scalable campaign.
The creative has been produced in a flexible and modular way to be locally relevant while maintaining a consistent global brand voice. Several versions have been produced to appeal to sports fans of rugby, tennis, hockey and football across Europe, Middle East & Africa, Latin America and Asia Pacific. It is also the first global creative to incorporate the various elements of the Mastercard sonic brand, including its distinct melody, acceptance sound and sonic signature.
Raja Rajamannar, chief marketing and communications officer, Mastercard said: "People today expect more than a great product – they expect brands to have a point of view, and it's through Start Something Priceless that we show ours. We've always been a brand focused on experiences over things, and are thrilled to see our global ambassadors uniting to demonstrate in a light-hearted way, that together, everything is possible.  It is a message we hope reminds people that we are all stronger when we come together, and have some fun with it too."
Source: McCann XBC