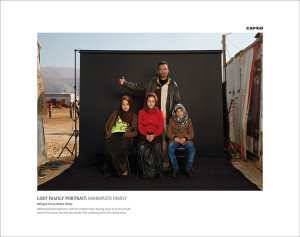 M&C Saatchi has created a hard-hitting awareness campaign for the Catholic Aid Agency for England and Wales (CAFOD), emphasising the tragic loss that families have endured throughout the Syrian conflict.
Running from 27th January, the campaign, entitled Lost Family Portraits, sees families from the Syrian refugee crisis pictured in the classic family photo style. However, empty spaces and chairs are used to represent missing family members who have been lost during the conflict.
The families were photographed by award winning photographer Dario Mitidieri at refugee camps in the Bekaa Valley, Lebanon, just nine kilometres from the border with Syria, with the Syrian mountains visible in the background. Dario has been influential in documenting war-torn areas for over 25 years, including the conflict in Northern Ireland and the Iraq war. He won the British Photographer of the Year for his work documenting the 1989 students' demonstration in Tiananmen Square.
The campaign will invite people to read each family's heart-breaking story on the CAFOD website where they can also donate to the charity.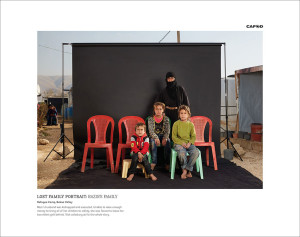 CAFOD and its partners have been supporting vulnerable refugee families in Syria and across Lebanon, Jordan and Europe for many years. Money raised will provide warm clothes and blankets, food and medical assistance to some of the many families whose lives have been shattered by war.
Jen Corlew, Head of Communications at CAFOD, said: "With more than one million refugees crossing into Europe last year alone, and the war in Syria showing no signs of letting up, the humanitarian situation remains desperate. Now, as harsh winter conditions set in, refugee families need our help more than ever. Money raised from the Lost Family Portraits campaign will enable CAFOD and its partners to deliver vital aid – including warm blankets, clothes, and food – to families who have fled to Lebanon, Jordan and Europe, as well as those still inside Syria. Lost Family Portraits reveals the heart-breaking loss war brings and gives a human face to the refugee crisis which we hope will move the British public to do all they can to support families whose lives have been torn apart."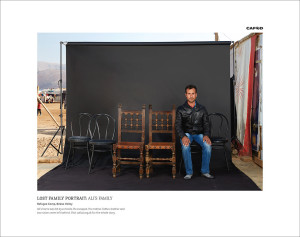 Dario Mitidieri, Photographer, commented: "The families I met have been witnesses to so many stories – horror stories, terrible stories – people dying, children dying, things that shouldn't be happening in 2015. I met a father who lost his wife in a bomb attack; he is left to take care of his three traumatised daughters. I saw the pain in a mother's eyes as she talked about leaving behind her child. These stories are a reminder that we can't forget, we can't just switch off the TV and forget about it. These are real people with real stories, and that is why it's very important to keep raising the issue – look at these photographs of families, read their stories."
Tom Firth, Managing Director at M&C Saatchi, said: "This is an uncompromising campaign with a strong social purpose. The striking imagery underlines the devastating effect war has on ordinary families. It highlights the exceptional challenges families are facing and hopefully reminds the public that many people in crisis still need our help. We approached CAFOD with this idea knowing how strongly they feel about the issue and how they would give us the freedom to create an impactful campaign. We hope to do more stimulating work like this with CAFOD in the future, as well as with Dario, who truly captured the pain that these families are going through, hopefully inspiring the public to help."