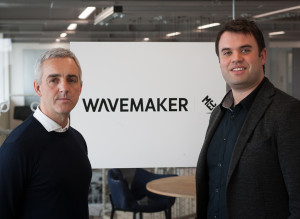 MEC launches MEC Wavemaker, its global specialist content offer that brings together content strategy, social, partnerships and experiences, SEO and creative service expertise.
MEC Wavemaker creates content based on insights from MEC's unique purchase journey planning approach MEC Momentum. This looks at a brand's purchase journey and identifies where content can deliver business impact.
MEC Wavemaker consolidates MEC's content strategy, social, partnerships and experiential, organic search and creative services expertise into one unit to provide clients with a single solution that is agile and accountable. By simplifying what can be a complicated process for clients, this reorganisation is designed to deliver effectiveness through continuous measurement and optimisation.
Jason Dormieux, UK CEO of MEC, said: "We're hugely excited by the UK launch of MEC Wavemaker. Clients understand the increasing importance of developing purposeful content strategies. Bringing together the various elements of our business that are involved with content will enable us to accelerate our work for clients in this vital area and enable us to continue to deliver effective communication strategies for them."
In the UK, the launch of MEC Wavemaker consolidates MEC Content, Access and Organic Performance (SEO) into a team of more than 100 people. The division will be led by Ben McKay, MEC's MD of Organic Performance, and Matt Davies, MD of Content, who become joint MDs. Their complementary skills will provide leadership to clients to ensure that brand content strategies are built around the customer to drive sales and lifetime value.
Speaking about the announcement, Ben McKay said: "We now have a content offer that brings together 100 people across five disciplines that enables us to be more agile and accountable for our clients". Matt Davies added: "Because we understand how people behave and how they buy, we can give them content they will enjoy at the right points on their purchase journey to impact a brand's performance."
The launch of MEC Wavemaker builds on recent success for MEC's content, which recently won three awards at the 2016 European Sponsorship Awards: Best Use of Digital for Evian #wimblewatch; Best Use of Social Media for EE The Wembley Cup; and the Media Sponsorship award for Morrisons It's Beginning To Look A Lot Like Christmas. MEC also achieved recognition at this year's UK Sponsorship Awards for its Marriott #reunitewithme activity and for the Royal Navy Supersubs campaign.
MEC Wavemaker launches globally today in 10 countries: UK, USA, The Netherlands, Mexico, Australia, India, Poland, Middle East, Singapore and Germany. Other markets will follow throughout the year and the division will have 750 people globally.