To convey all the character and consistency of the line of wines Medalla Real, Viña Santa Rita and MRM//MCCANN turn to the art of cinema. Together, they launched the shortfilm "Decanted", presenting the story of a enologist whose passion for his work is driven by a constant pursuit for excellence in the making on wine.
"Our client gave us the challenge of generating the first massive Medalla Real campaign, aiming to increase awareness around the brand in the long term. In order to achieve it, we defined authenticity as the brand's territory, and cinema as the medium to develop an interesting, real and intense story, with which our aimed audience could relate to," says Isabel Espinoza, General Account Director at MRM // MCCANN.
Vicente Droppelmann Gil, Assistant Manager of National Marketing and Representation of Santa Rita adds: "Medalla Real is the icon of the Santa Rita Premium portfolio. In fact, it is the third most relevant brand in this segment at a national level, with 5% of market share. We believe this position has been reached thanks to the brand's long tradition, the positive endorsement of Santa Rita, and a great commercial work. Now is time to take the brand to another stage, to build an emotional connection with our consumers, and we believe this campaign is the perfect starting point for that."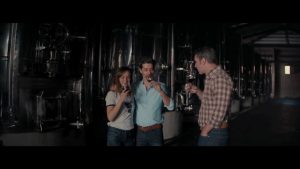 The 6'22"shortfilm "Decanted", created by MRM // MCCANN with the support of Wood Producciones, highlights the values of the brand in a bold and intense way, connected with the internal struggle of the middle-aged men in seeking the pursuit of professional excellence while balancing it with his personal life. Having the short-film as the main piece of the campaign, the integrated communication strategy encompasses social media, OOH, TV and Radio spots, as well as PR initiatives.
"Decanted" stars Francisco Pérez-Bannen, film and television actor and presenter, who has worked in many Chilean productions, and is co-starred by film and TV actress Ingrid Isensee.
The film also features María Jesús Miranda Candia, theatre actress and film director and screenwriter, Cristián Jiménez, recognised by several festivals, among them, Cannes Film Festival and the San Sebastian Festival.
Source: MRM//MCCANN