Almost half (42%) of social media users in the U.S. and UK say that they are under less pressure to portray an unrealistic image of their life during the Covid-19 pandemic and corresponding lockdowns, according to 2,419 internet users surveyed in the U.S. and UK by GlobalWebIndex and We Are Social.
In contrast, only 23% of social media users still feel the pressure of posting content that provides a more polished version of their life. It also appears that we – and men in particular – have become more willing to openly share feelings over the last two months. Perhaps surprisingly, 46% of male social media users say they have been more open on their public social channels about the struggles they are facing, compared to 31% of women.
Inspired by friends and local communities, influencers outperform celebrities
The research also examined content sources that most inspire social audiences and found that 74% of social media users chose friends and family in their top three sources of inspiring content. 52% chose their local community and 35% selected charities or not for profits; influencers and content creators fared well with 23%, followed by brands 21% and celebrities (actors, singers etc) at 20%. At the bottom of the scale, 45% of social media users selected politicians as one of their least inspiring categories.
Room for humour, Gen Z drives meme shares
The top content to share on social media was found to be personal news (40%), funny videos (36%), and memes (29%). As might be expected, sharing more memes is driven by younger audiences – 44% of Gen Z and 34% of millennials say they're sharing more memes compared to 12% of baby boomers. Generally, younger generations are more likely to be sharing a range of different content.
Funny content is a big hit with millennials; 44% of this group say they're sharing funny videos. But even among baby boomers, 23% say they're sharing more funny videos on social media or private messaging platforms.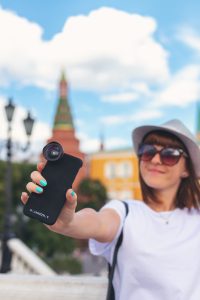 Social connections in isolation, Facebook takes top spot
Overall, 57% of social media users in the US and UK agree that social media has helped them feel less lonely over the past two months. This sentiment reaches a high of 65% among Gen Z and 61% among Millennials, dropping to 43% among Baby Boomers.
In terms of the platforms that have helped people feel most connected, Instagram takes top place for Gen Z (67%), followed by YouTube (63%). For all other generations, Facebook takes the top spot with 67% of Millennials, 65% of Generation Z and 62% of Baby Boomers selecting the platform.
As expected, TikTok is resonating more with younger generations; while 31% of Gen Z and 21% of Millennials say that TikTok has helped them feel more connected to others over the last two months, this falls to just 8% of Gen X and 2% of Baby Boomers.
Mobbie Nazir, chief strategy officer, We Are Social, said: "When the Covid-19 pandemic hit, social media, almost overnight, became the primary way of communicating and socialising for many people all over the world. This is a resurgence in the way people used to use social years ago; to make meaningful connections. While the last few months have been a rollercoaster of emotions, it's encouraging to see more people – men, in particular – feeling comfortable enough to open up about the pressures of life in quarantine, and feel less pressured to present a polished, perfect version of themselves online. As conversations around mental health and wellbeing, and the role social media plays in both supporting and impacting these aspects of our lives, continue – it is my hope that we see the shift towards more honest and open social media persist, and grow."
Katie Gilsenan, Consumer Insights Manager, GlobalWebIndex, added: "The idea that social media has become more "anti-social" over time is something we've explored many times throughout our research as social media evolved beyond simply keeping in touch with loved ones. It became a place to catch up with the latest news, to research brands, and for entertaining content – all of which grew in importance. While it's still all of those things, consumers' use of social media over the past 2 months has gone back-to-basics in a sense. As feelings of loneliness and anxiety increased for many, social media provided the connection that people craved at a time when they arguably needed support the most. Social media has often faced scrutiny for its effect on people's wellbeing, so it's encouraging to see evidence of the positive impact it can have." 
The survey took place during the last two weeks of May 2020. 
Source: We Are Social