Mini UK has launched the national push in its global brand campaign, "not normal", which will feature images of Mini-inspired creations drawn from social media for the first time.
Iris Worldwide created the campaign, which is Mini's first brand campaign since 2008's "ban boredom", with media planning and buying by Vizeum. The activity stars with digital and digital outdoor from today.
The online activity includes a digital hub on Tumblr that can be accessed via Mini's website or Facebook page and will feature blogs, images an online film asking the public to help track down more Mini inventions for the next phase of the campaign.
People will be encouraged to post their own images online, with the hashtag #mininotnormal.
Anna Inglese, the national communications and direct marketing manager, Mini, said: "Social media is full of Mini creations. We're simply surfacing them to show how Mini owners feel about their cars. It's less of an ad campaign and more of a 'thank you' to all the creative people who love Mini."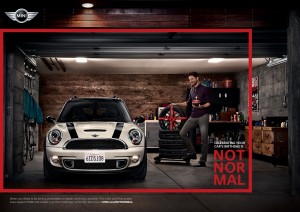 Specific to the UK is an expanded digital out-of-home campaign launching on 12 August. This will include seven large digital screens on London's Cromwell Road that will display a personalised message to Mini drivers as they pass.
According to Inglese, this will be done by having spotters at one end of the road identifying things such as the gender of Mini drivers and the model and colour of their vehicles. This information will be used to select the most relevant of a series of pre-planned messages on the seven digital screens.
Inglese said: "We're going to deliver a message that is tailored to them as well as, hopefully, an experience they can take away, like a really nice breakfast if they're driving into London early in the morning, or a free tank of petrol."
The drivers will then be able to collect their "thank you" from a Mini-branded roadside stop after the digital screens. The campaign's TV ad will launch on 12 August and show how people at different life stages fit the Mini brand.
The campaign will run for eight weeks, although Inglese said the digital element could run on beyond that depending on the social activity.
Iris won Mini's £10 million consolidated integrated advertising account in December 2012 and since then has created a number of campaigns, including a push to promote the new Mini Paceman in April.