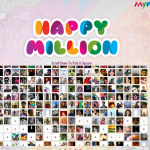 Myntra, an Indian online shopping retailer of fashion and casual lifestyle products, recently celebrated one million likes on their Facebook page with a Happy Million app. With this app, fans get to be part of a special 'Happy Million Wall' and get a chance to win gift vouchers from Myntra ranging from Rs 100 to Rs 1,000.
The Happy Million app consists of multiple boxes that make up a grid. Each user gets one chance to click on a box and claim the box with his/her Facebook display picture on it, thus becoming part of the Happy Wall. Myntra gift vouchers are hidden in some of these boxes and are revealed once they are clicked by a user.
Myntra entered the social media race four years ago, however the fan base saw a significant growth in the last 18 months. The e-commerce website has another application named 'Get Satisfaction', which gives users an opportunity to share their grievances.
The Happy Million application was built by 22feet and was live for five days. The initiative was promoted across Twitter and Facebook and also through mailers to the website database.