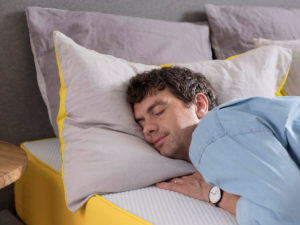 eve Sleep has created a new advertising campaign, due to air on TV for the first time on August 12. The campaign advocates the benefits of a good night's sleep by drawing attention to the hazards of being sleep poor.
It is the brand's second advertising creative since the company launched in February 2015, and the first since its UK retail Initial Public Offering (IPO) in May 2017, which saw the brand raise a further £35m in funding.
The campaign will run on TV, digital and social media. It will be supported with through the line communications including PR throughout the rest of 2017.
The creative, directed by Tim Bullock of Blink Productions and creative agency Accelerator, uses humour to highlight the perils of being sleep poor. A man lives through a series of hapless moments, showing all the signs and symptoms of being excessively tired: he is clumsy, he craves sugar, he is prone to cliché. A cat, as the ultimate sleep champion of the animal kingdom, and with an inevitable air of superiority, adds to the comedic effect.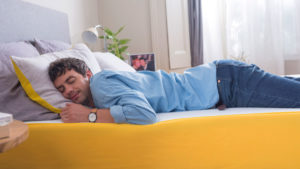 The voiceover, by actress, writer and comedian Julia Davis, is amusingly authoritative, and ends with a direct appeal to the sleep poor to try an eve mattress for 100 nights and 'join the sleep rich'. The last scene sees the main character pull out his new eve mattress and sink into a deep, happy sleep.
Kuba Wieczorek , founder and chief brand officer, eve Sleep said: "This campaign is about tapping into the emotional benefits of having a good night's sleep by highlighting the truisms of feeling over-tired in a playful way. Our business purpose is to help people sleep better, and this campaign is our first clear invitation to people to join us in realising that. We've coined the term 'sleep rich' in the process, which we hope will help identify a new tribe of positive, healthy, well slept and energised people who can identify with our upbeat brand identity, which is after all, most definitely, awake."
The campaign's media planning was by media agency Goodstuff Communications.
Source: eve Sleep