Pearlfisher's brand creation and packaging design of Her.9 – a revolutionary direct-to-consumer pregnancy care brand – aims to reappraise the sector by speaking to a new generation of mums who seek a closer relationship and transparency with brands to accompany their motherhood journey.
Her.9 is challenging the long-standing brands at the forefront of pregnancy nutrition that has a largely one-dimensional focus on the physical wellbeing of the baby. Instead, Her.9, led by a powerhouse of notable experts and doctors is pioneering a fresh approach that views womanhood as equal to motherhood.
"The pregnancy category is stuck in the past, both in how it looks and what it offers. This was an exciting opportunity to approach the category differently and really subvert the limited, synthetic and staged cues where packaging design tends to only focus on the baby or the bump. To introduce a more contemporary view on motherhood, we rooted the brand in putting 'HER', the woman and mother-to-be, first and foremost by creating a packaging design system and brand world that reflects the emotional needs of mums, appealing to their desires and aspirations and communicates how Her.9 can support them and have a positive impact throughout and after their pregnancy journey", said, Partner Futures & Insight, Sophie Maxwell.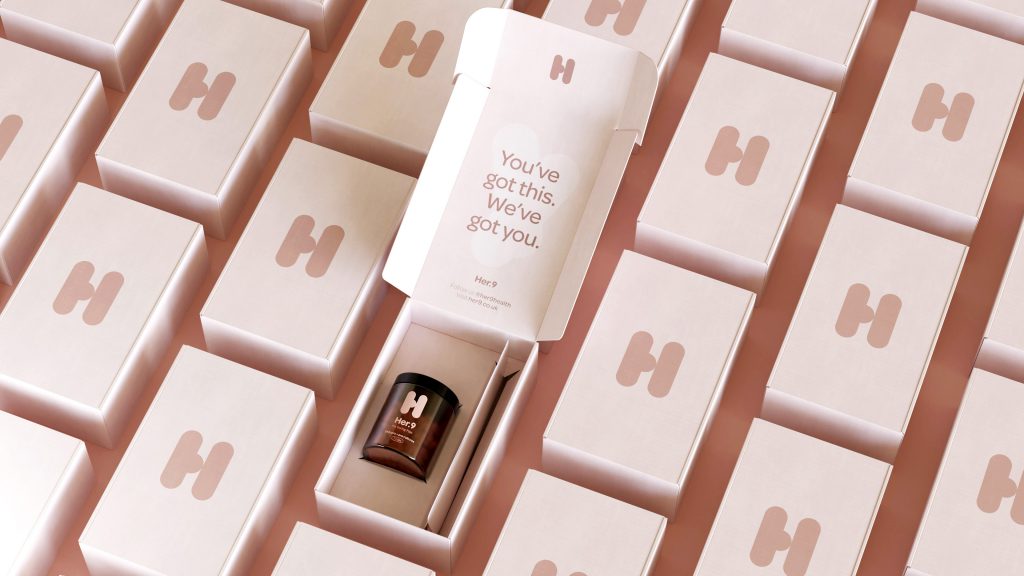 Design Director, Rich Wilson, explains the creative approach, "There is a real sense of duality with the Her.9 brand that represents both mother and baby. The brand identity is an example of how this comes to life, symbolising the body of a pregnant woman and the shape of the vitamin pills displayed side by side to support the mother's journey and wellbeing. Responding to the Her.9 team's desire to keep sustainability front of mind, the understated, apothecary-style, brown glass jars not only protect the contents but can be re-used from the entirely compostable refill pouches while the brand's product description leaflets are printed on algae paper. The branding is communicated through a subtle brand colour palette, inspired by the diversity of different skin tones and is used across print and digital, appearing refreshingly different in comparison to the competition in the pregnancy sector."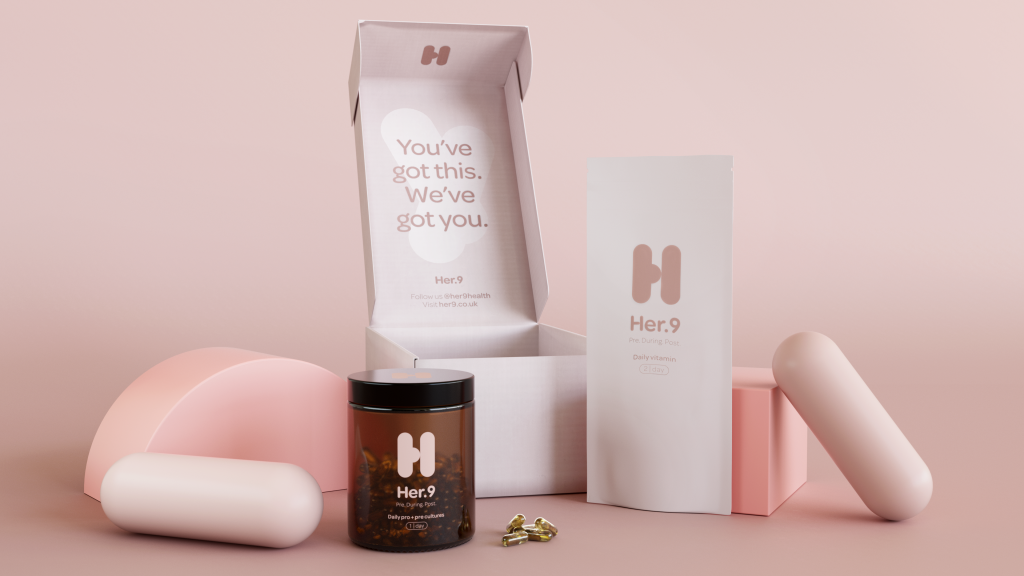 Her.9's Co-Founders, Henry Porpora & Max Haller, "We are a very different offer to anything on the market today and we needed to be able to show this difference, with gravitas and a sense of expert quality, but also attract a new generation of women who expect the best in everything – from their overall nutrition to a beautiful brand on shelf that speaks to their lifestyle. Pearlfisher has more than delivered on all levels to help us show the pregnancy and wellness market, and the women we want to nurture and empower, just how much more we, and this sector, can now offer."
Her.9 is currently on a waiting list basis due to high demand: www.her9.co.uk
Source: Pearlfisher