Adult entertainment site , in partnership with adult toy retailer Ann Summers, announced the launch of an exclusive  for couples and males. Available worldwide, the exclusive line will feature a wide variety of top-rated quality sex toys including masturbators, anal toys, cock rings and vibrators, among others.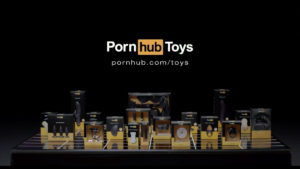 In order to promote the launch of the new line, Pornhub wanted to do something entirely unique. Partnering with creative shop Officer & Gentleman and the electro-pop band Perlita, they composed "Sex Instruments", the first ever song made entirely out of sounds produced by sex toys, including guitars played with vibrators, bass notes from anal beads and strokers for rhythm to name a few. If that wasn't enough, they also added another layer of sonic bliss by combining the rhythm of the toys with the sounds of moans, orgasms and sex, creating a one of a kind song that will get your feet (and hands) moving.
The music video, which features adult actors Carolina Abril and Jesus Reyes, serves a metaphor for the numerous ways in which a couple can enjoy the large selection of Pornhub Toys by telling the story of a young couple that is not only experimenting with music, but with the toys themselves. With a retro-futuristic aesthetic, we watch as the sounds they capture on a specialised sound board produce a reaction with their "avatars" in a recording studio. With every new toy added to the table, a new sound sample is added and mixed into the track until finally the song, and the couple, reach climax.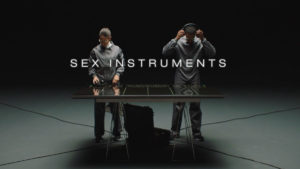 The video will premiere today on Pornhub's social channels and the song, aptly titled "Sex Instruments" is available for free for all those who are interested in experimenting entirely new genre of music: Electroporn.
Credits:
Agency: Officer & Gentleman
Executive Creative Directors: Javi Iñiguez de Onzoño & Alex Katz
Agency Producer: Alberto Pérez Fontecha
Accounts Director: Alejandro Fata
Planner: Ainara Aizpuru
Art Directors: Alex Katz, Daniel Marco Muñoz, Luis Álvarez, Alonso Figueroa
Copywriters: Javi Iñiguez de Onzoño, Javier Dieguez, Mónica Gramunt
Production Company: Garlic.tvÂ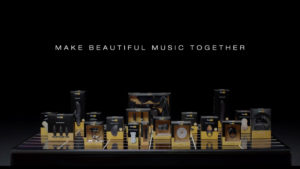 Director: BRBR
Executive Producer: Álvaro Gorospe
Director of Photography: Michal Babinec
Sound:Â Pedro Soto / Sonomedia
Editor: Alejandro García
Color correction: El Colorado
Production Designer: Paula Marín
Song Title: Sex Instruments
Music: Perlita (Song by Pedro Perles)
Music Mixer: Sergio Molina
Recording Studios: Moba Studios
Source:Â Officer & Gentleman