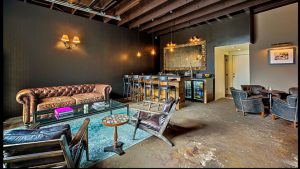 Award-winning creative editorial house PS260 launches their own creative content studio, called We Know The Future, which offers in-house production capabilities and advertising solutions across any channel that uses a screen. These offerings will be available in NYC and LA. JJ Lask, PS260's co-founder, partner and editor, is leading the new content studio from the company's LA office, with support from all PS260 editors and staff across both offices.
Currently, PS260's We Know The Future partners with various creatives, from writers and directors, to social media influencers, to support its content production with plans to build out the team in the next year. The first project from We Know The Future is titled "American Counselor," which launched during the first week of July on PS260's YouTube channel timed to the Fourth of July holiday.
PS260 and We Know The Future edited and produced "American Counselor," respectively, and worked with director of the 14-episode digital series, Brendan Gibbons. The series personifies both the liberal and conservative sides of the U.S. as a husband and wife going through marriage counseling. Actors include Annie Sertich (2 Broke Girls, The Office), Ptolemy Slocum (Westworld, The Sopranos), and Marc Evans Jackson (Brooklyn Nine-Nine, Jumanji), who plays the American Counselor.
In addition to "American Counselor," JJ is working on a show directed at dads, called "That Dad Show," that will live on Facebook this fall, and will be produced by the new content studio.
PS260 believes that having a stake in the conception and creation of content like "American Counselor" is a natural merger and progression of PS260's unique editorial and storytelling talents.
"The launch of PS260's content studio is a response to a new advertising landscape," JJ said. "PS260's advantage is our visual storytelling talent. We are now leveraging that talent to develop, create and produce longer format episodic content combined with advertising solutions distributed across all the leading social channels. We're so excited to kick off We Know The Future's first project with director and friend Brendan Gibbons, and look forward to seeing how the expansion of our capabilities will better serve our current and potential clients."
Source: PS260