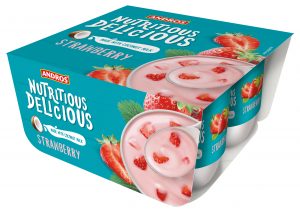 Quiet Storm has been appointed by Nutritious Delicious in the UK – the natural, plant-based food brand owned by French brand Andros (who also own Bonne Maman), to build brand awareness and fame.
This will be the first major activity for Nutritious Delicious, with the work due to break this spring.
Quiet Storm won the business following a three-way pitch which was conducted through Oystercatchers.
Nutritious Delicious was launched in the UK in 2019. This follows a successful launch in France in 2018, under the name Gourmand & Vegetal, where it now has the second biggest market share in the plant-based yoghurt category. *
With a more extensive product portfolio already available in France, Nutritious Delicious has an ambitious innovation pipeline planned for the UK and Quiet Storm's work will provide a platform for future brand extensions – helping shape brand strategy for years to come.
Rania Robinson at Quiet Storm, said: "Consumer appetite has recently moved towards plant-based, healthier foods. A major and significant shift, this is a trend now set to continue – and one that Nutritious Delicious is well-placed to deliver against given Andros' fruit-processing specialism, French heritage and credentials in producing some of the tastiest products on the market."
Zoe Bernstein at Nutritious Delicious, said: "We are very excited to be working with Quiet Storm who demonstrated a great combination of strategic thinking and creativity on this new brand."
All Nutritious Delicious products are suitable for a vegan diet and have been certified 'V-label', meaning the products are made without any animals or animal part ingredients without any production/processing/ testing using animals or animal parts. All products are lactose-free and gluten-free.
Source: Quiet Storm