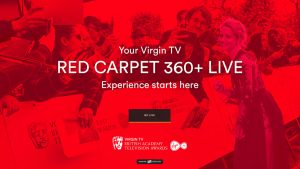 As part of its sponsorship of the British Academy Television Awards in 2018, Virgin TV hosted a world first 360+ LIVE experience taking viewers straight to the glitz and glamour with three discreetly positioned cameras along the red carpet.
Inspired by the pivotal role TV viewers have played in the television revolution, Virgin TV and RAPP UK have created a campaign using innovative technology to give TV fans a live virtual walk along the red carpet and spot their favourite attendees; all at the touch of their mobile devices.
Each 360˚ camera will not only featured a different vista, but also included interactive extras, which viewers could follow and tap through while navigating between the cameras. These extras included watching Roman Kemp – Virgin TV's red carpet host – interview attendees, interesting facts about the awards, and a UK-first "Red Carpet 360+ LIVE experience", which posts reactive, live facts about the attendees as they stop to pose for the photographers.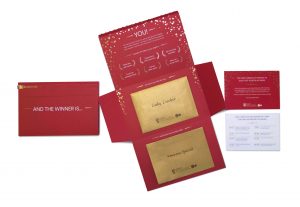 Virgin TV and RAPP UK have also created The Last-Minute Mirror, which was positioned at the entrance to the red carpet, giving  guests an opportunity for last check before the big walk. The Last-Minute Mirror opened a window for viewers to enjoy a little playful interaction with their favourite attendees via reactive messages appearing on top of the large vanity mirror, prompting spontaneous reactions. The smiles, waves and hellos were captured by a camera and posted on Virgin Media's social channels.
This VIP red carpet treatment for fans at home did not, however, stop there. As part of an integrated campaign, RAPP UK also created a Virgin Media customer competition offering the chance to attend the Virgin TV British Academy Television Awards.
As for the winners, once they've received their Award and stepped backstage, Virgin TV asked them to share their "winning words" on camera – based on the start of a sentence that they have to finish by doodling or scribbling. This light-hearted content was shared on Virgin Media's social channels, featuring in polls and quizzes for all to partake.
Those who were too excited to wait until 13 May could check out how Virgin TV ambassador, Roman Kemp, was preparing for his big night on the red carpet by camping outside the venue five days early. Roman starred in five mockumentary-style videos leading up to the day, showing his humorous and near hysterical excitement ahead of the Awards taking place.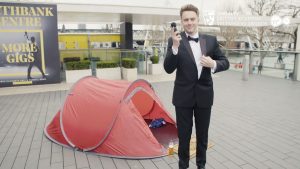 The online films and all interactive content was made readily available on Virgin Media's Instagram, Facebook and Twitter channels.
Adam Rolfe, Creative Director at RAPP UK said, "We're thrilled that we've been able to transform the red carpet with creative tech. Gone are the days of asking 'who are you wearing?' From now on, we're playing truth or dare, trivia and sharing a more authentic red carpet experience for the viewers and attendees alike. Viewers are the ones spurring on the creative and revolutionary direction of television, and we're thrilled to help Virgin Media spotlight the critical contributions TV fans make to the television industry."
Source: RAPP UK