The first of its kind concept and event ever to be launched in India started two years ago with the objective of making trucking an aspiration amongst the new generation of drivers and young fleet owners. This gave Tata Motors an opportunity to showcase their product and technological credentials through the excellence of India's greatest and most advanced truck – Tata Prima.
Tata Motors T1 Prima Truck Racing Championship being held at the prestigious Buddh International F1 circuit for the past two years has now become a much awaited annual event. It is a day-long programme where the best British truck racing drivers compete for the championship along with some entertaining performances by eminent Indian artists.
In 2016 Tata Motors are taking the event to a whole new level by introducing for the very first time our very own Indian truck racing talent by selecting actual competent truck drivers. These truck drivers have been given technical training for over a month by specialised technicians and racing experts in order to prepare them to compete in the championship.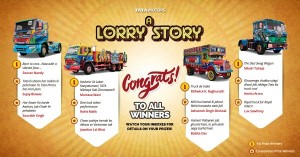 The communication for Season 3 was devised to mainly communicate this unique achievement and showcase the aspirations of the truck drivers who from being masters of the Indian roads are now on the verge of becoming racing truck heroes.
The television commercial, conceived by Rediffusion-Y&R captures the attitude of these Indian truckers of leaving the world behind and exhibiting power of a winner, as they drive through the tough Indian terrain onto the racing track at Buddh International Circuit. The TVC is backed by an integrated campaign on press, radio, outdoor and consumer contact programs to draw maximum attendance at the event.
UT Ramprasad, Head – Marketing & Communication (Tata Motors, Commercial Vehicles) said, "Season 3 is a landmark year for the T1 Prima Truck Racing history. The first time around was by introducing the concept of truck racing in India. This year we took T1 Racing to another level by selecting & training Indian truck drivers to race Tata Prima, India's greatest truck. The commercial is an encapsulation of the pride and feeling that truck drivers have upon being given the chance to race and compete with their peers on the race track , that too on the prestigious Buddh International F1 circuit."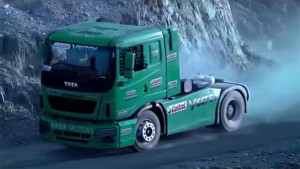 Dhunji S. Wadia, President Rediffusion-Y&R said, "The focus of our communication this year was to showcase the big leap that Tata Motors are taking in the T1 Prima Truck Racing by including Indian Truck Drivers for the very first time. We want to highlight the feeling of pride that these truck drivers felt on being given such an opportunity."
Rahul Jauhari, CCO – Rediffusion-Y&R said, "T1 will be transformational for Indian truckers as, for the first time, it puts the spotlight on them. The idea for the commercial came from there. The story of Indian truckers eager to make their mark on the world, we wanted the real feel. We have shot real trucks on location in multiple places."