A provocative new campaign for The Salvation Army of Brazil uses humour to drive donations instead of the usual emotional, heart-tugging approach.
The new campaign, "Unwanted Gifts," created by the advertising agency WMcCann Brazil, uses colourful and exaggerated illustrations of international politicians, such as Donald Trump and Kim Jong-Un, to show that what may not fit some, may be perfectly useful to others.
"As the Salvation Army collects items in good condition, we try to remind people that they may have a gift — clothing, furniture or something very good at home — that they may not notice, or do not like, or no longer identify with, or have forgotten in some cornet, which may in fact be valuable to others," said Eiji Kozaka, Creative Director for WMcCann.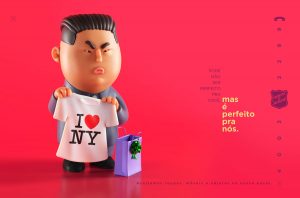 Print ads feature a Donald Trump figure receiving a Mexican hat and Kim Jong-Un receiving an "I Love NY" T-Shirt. Both ads carry the tagline,"It may not be perfect for you, but it's perfect for us."
The online film/TV commercial takes a much different narrative but arrives at the same conclusion about unwanted objects having value for the Salvation Army.
The bizarrely humorous film features a plaid family in a plaid environment exchanging plaid gifts, but the daughter receives a shocking, polka-dot shirt – perfect for a donation to the Salvation Army.
Source: WMcCann Brazil