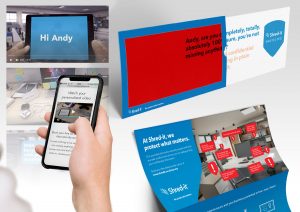 Shred-it, one of the world's leading information security companies, launches a major multi-channel lead generation marketing campaign to shine a light on the value of hidden personal information which poses a real threat to businesses across the country.
The campaign – 'Hiding in Plain Sight?' – challenges business leaders to reassess their policies, inviting them to look again at what secrets they are hiding in their desks. Shred-it is offering a free data security survey to highlight the various risks within the workplace, presenting Shred-it as the solution to document destruction and information protection.
This is the first major marketing campaign from Shred-it, since being named a UK Superbrand in 2019 – the definitive list of exceptional brands throughout the world based on quality, reliability and distinction.
Running for six weeks during September and October, the campaign includes geo-targeted radio advertising covering London, Birmingham, Glasgow, Bristol and Manchester, to reach an estimated 375,000 listeners.
The campaign will incorporate personalised video content, direct marketing using innovative red reveal film for impact, targeted LinkedIn content, PPC, SEO, newsletters and lead generation emails, highlighting the issues related to exposed personal information and positioning Shred-it as the premier provider.
Andy Johnston, Marketing & PR Director EMEAA, Shred-it, comments: "Data security is one of the greatest threats to businesses in the UK, and yet it is staggering how much confidential information can be found hiding in plain sight on the desks of Britain's workforce. We are excited to launch this marketing campaign to shine a light on the dangers of hidden personal information, and to show companies that there is a solution to keeping their information secure. Having been awarded Superbrand status earlier in the year, this is a hugely exciting time for Shred-it as we look to grow the business across the UK and globally, helping organisations across all industries and sectors to protect their data."
Source: Shred-it