GuestHouse opens its second hotel, No. 1, York, this week after opening its first, No.15, Bath earlier in the year. Brighton is set to follow, boasting a coveted central seafront location. Each is a beautifully relaxed hotel with an excellent spa and food & drink that conjures the senses felt on the best Great British holidays. Its joyous identity and lovable guest experiences by & SMITH perfectly capture the vision of the three brothers behind GuestHouse – Tristan, James and Tom Guest. So, our name is part of the family as well as a nod to the warmth and unmistakably British character of the traditional guest house.
A family of happy hotels full of wonder in Britain's most intriguing cities.
The brothers' development plan is to cherry-pick cities that show the UK at its best – the university cities where creativity lives on every corner along with history that makes for great stories. They acquire beautiful historic buildings right in the centre of these much-loved locations, always aiming for the best street. And then, they create a wonder-world of design, art and collectables that surprise and delight guests once they enter the grand doors along with the warmest of genuine welcomes.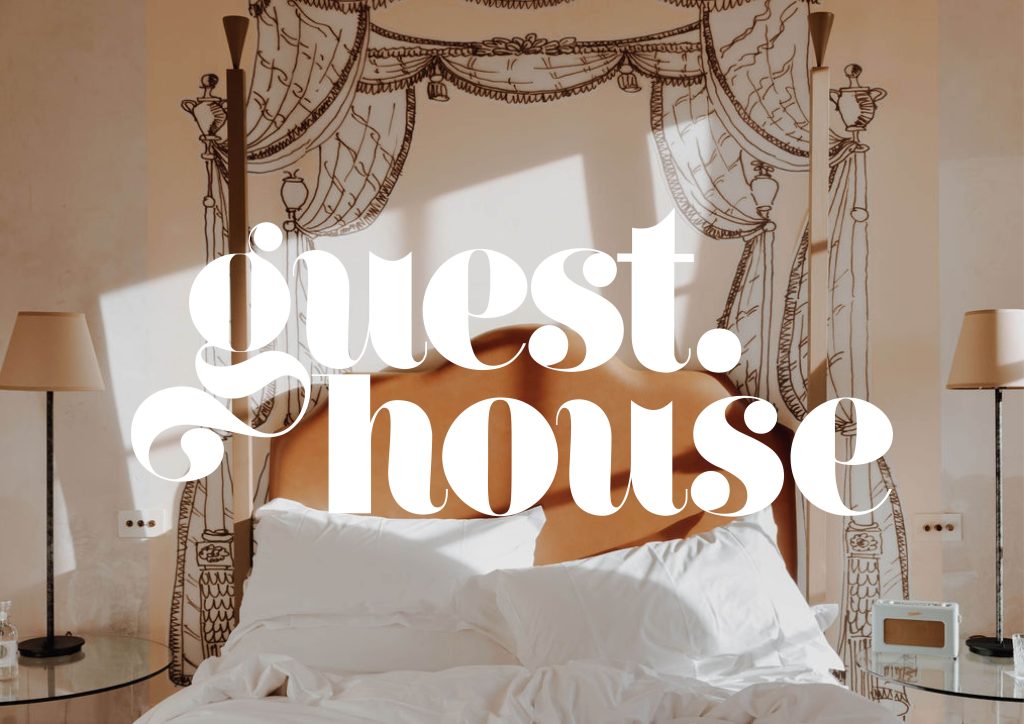 A brand with a distinctly sunny disposition
Aside from the colourful and fun identity featuring an expressive group logo and unique hotel logos, & SMITH created a guest journey to create vibrant signature moments for guests in each hotel. This includes a branded bike for train station luggage pick-ups so that guests can wander from the station burden-free. There's a turntable in every room to play your choice of music from a curated record collection. There are in-room tipis and instant cameras awaiting the arrival of kids, walkers for the dogs, help-yourself pantries stocked with sweet and healthy treats, and collections and curations of art and beautiful and curious objects all around the hotel to surprise and delight.
And then there are the locally flavoured elements that celebrate the locations. They include an in-room paper that takes a deep dive into the best of local food, drink, shopping, sights and culture. And a handy pocket guide called Guest List that shares the best way to discover the true sense of the city through its mapped-out itinerary. There are colouring-in-local-icons books for kids. And nearby makers crafting the do-not-disturb hanger out of regionally relevant materials. This nod to local can also be felt in the food and drink menus where lots of city favourites feature.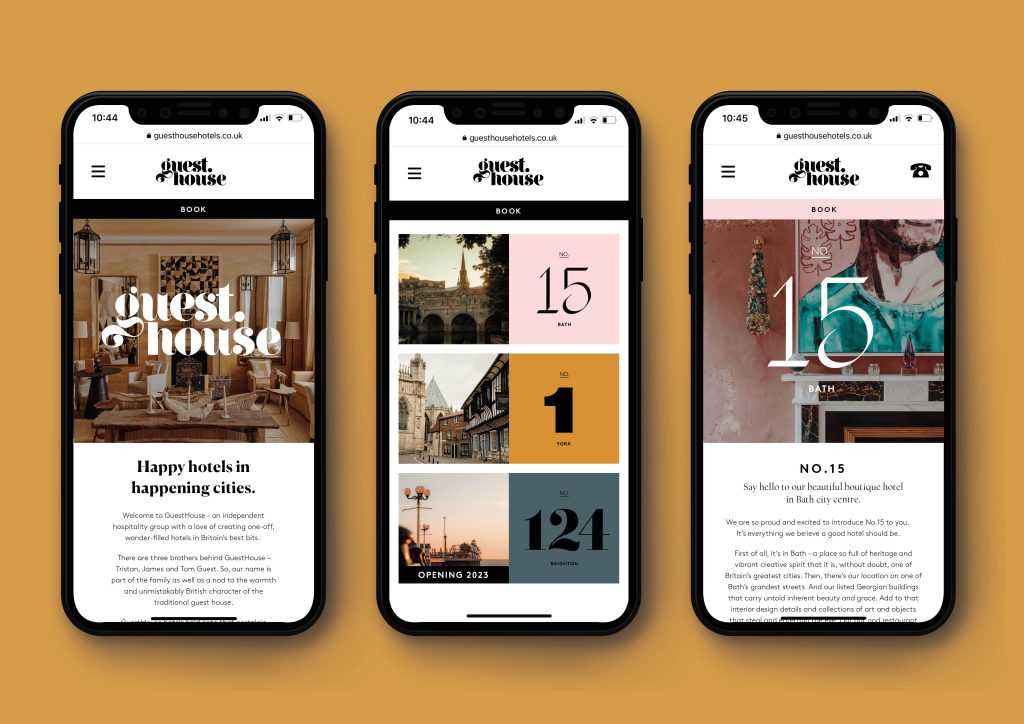 A full roll-out across print, digital and experiential
& SMITH worked on the brand strategy, naming, visual identity, guest journey, launch campaign, activation events and all digital and print collateral, including art direction of all photoshoots. They also created staff manuals to galvanise the team and embed the brand internally.
The visual identity and naming strategy shine a light on each hotel's character within the group. Each has a different name and individual identity palette that allows them to demonstrate their unique personality while sharing enough in common to fit into the rest of the family seamlessly. It means that the GuestHouse spirit runs through them all but without a sense of a soulless chain.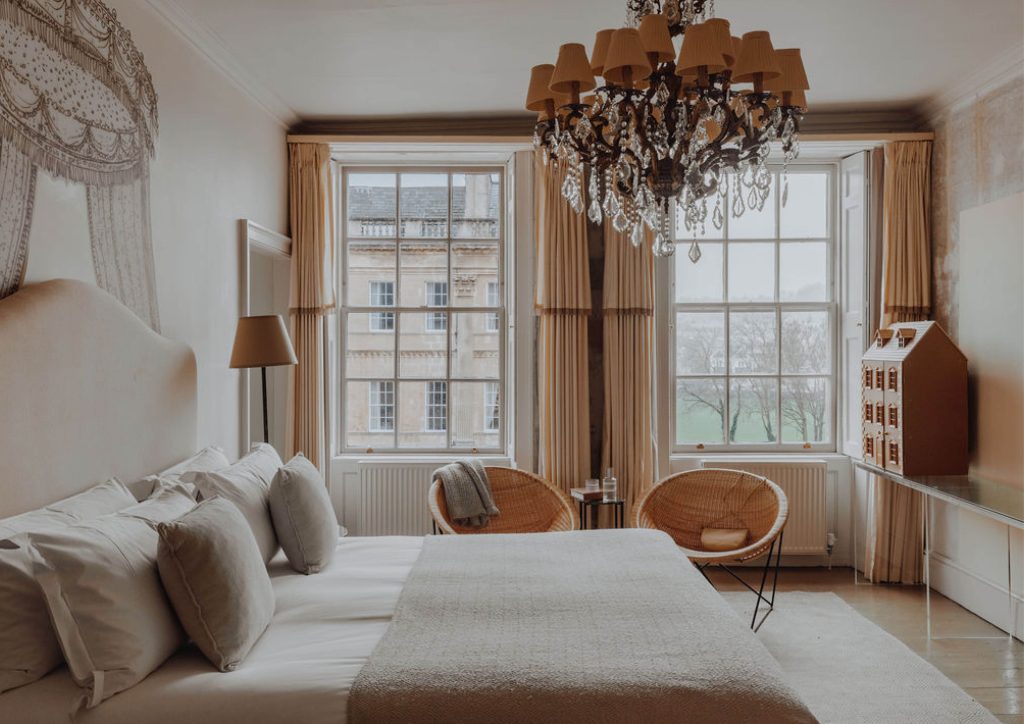 James Guest, Director and Owner, GuestHouse says:
We went to & SMITH knowing that we wanted a different kind of luxury hotel group and they got it straight away – taking all the best bits we associate with an indulgent hotel experience but tweaking it to feel relaxed and homely. A place where guests could experience luxury and feel comfortable with their family. That was essentially how the design brief was established.
Dan Bernstein, Creative Partner, & SMITH says:
We wanted to avoid the stuffiness of luxury by creating a brand that was creative, curious, happy and a bit more easy-going. You can feel this in lots of the ideas we peppered into the experience. We created items that are collectable, surprising, and that you want to touch. And moments that reflect the brand's values of happiness and indulgence, like the 24 hours of Happiness launch campaign, where 24 gifts, including entire weekend stays, were won by 24 lucky people."
Source: & SMITH