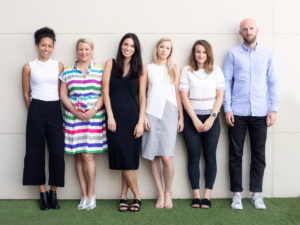 Havas has bolstered its influencer offering with the launch of a dedicated team of experts within Socialyse, the network's social media division.
Socialyse Influence has been created in response to the growing demand for influence-led social media campaigns, which have generated a 300% increase in billings for Socialyse so far in 2017 compared to the whole of 2016.
A newly created team, headed up by Jenna Walker, Content and Creative Director of Socialyse, and overseen by Jess Rowntree, Director of Socialyse, includes two new hires: Nik Speller joins from his co-founded influencer marketing agency Three Letters, and Zoe Crook, from The War Agency. The six-strong team, led by Speller, will focus on two key strands: influencer marketing for brands, and growing business leaders into influencers.
Effective immediately, the new Socialyse Influence team will work across all Havas clients, ensuring influencer campaigns are highly targeted, brand aligned and accurately measured.
Furthermore, a proprietary end-to-end tool is currently in development and will be launched later this year – incorporating deep identification metrics, brand safety checkers, influencer workflow management and real-time performance analytics.
Jess Rowntree, Director of Socialyse, said: "Our last few years of working in influence have shown us two things: Brand safety measures are not fit for purpose, and measurement has been allowed to be weak. The media industry is so rigorous about measurement but the measurement of influence work is comparatively unsophisticated. A lot of people are doing it intuitively and think that's enough but it's a naïve approach.
"The digitisation and scalability of influencer marketing is the biggest thing to happen to our industry in a while. A game-changer on this scale warrants a dedicated team of experts who understand what clients want and are equipped to provide it. Our newly formed team has the expertise to verify the most appropriate influencers, driving brand engagement and sales, while having the tools to prove the value and effectiveness of the campaign."
Influencer marketing is expected to be worth more than $24bn globally by 2019, and $8bn in EMEA, as brands look to tap into the 21st century word of mouth phenomenon.
Paul Frampton, CEO of Havas Media Group, said: "This investment in a stand-alone influencer offering reflects the growing need for a dedicated team of experts working on influencer campaigns. The industry is proving slow to react to this rapidly emerging trend but at Havas we have identified a need not only for campaign management but for strong brand safety awareness and measurement effectiveness."
Source: Havas Group