'Uniting the Movement' is a vision to transform lives and communities through sport and physical activity, which Sport England believe has a bigger role to play in improving the physical and mental health of the nation, supporting the economy, reconnecting communities and rebuilding a stronger society for all.
As a result of the huge disruption Covid-19 has caused, and the inequalities it's reinforced or even exacerbated – such as those around socio-economic background and ethnicity – Sport England's mission is to confront these inequalities head on.
Sport England appointed Havas agencies – Conran Design Group (brand and communications) and Cake (Havas's sport, entertainment and culture hub), alongside We Are Family (a London creative event and design agency) and Cyber-Duck (the digital transformation agency) to bring the strategy to life.
Despite no paid media, #UnitingTheMovement trended at number two on Twitter throughout much of the day, with 1.24m impressions for the Twitter launch post and 1,650 Tweets using the hashtag from partner and supporter organisations to date. The online event, featuring speakers including Dr Jenny Harries (Deputy CMO for England) and Dame Sarah Storey (British Paralympic Legend & Active Travel Commissioner for the Sheffield City Region) amongst many others, exceeded all expectations with over 5000 guests.
Conran Design Group developed a powerful name and visual identity for the strategic communications, designed and produced the strategy document itself, and produced an emotive launch film, voiced by Dame Kelly Homes, which acted as a rallying cry for partners and grassroot organisations.
Cake translated the strategy for a social audience, inspiring and engaging partners around each of the public body's key priorities; with the ultimate aim of securing their support and collaboration in tackling key issues together.
We Are family orchestrated the launch event production, incorporating Conran's visual identity into an accessibility friendly virtual event platform which hosted a series of interviews with high profile sport and health experts, and informative talks which delve into the heart of the strategy.
Cyber-Duck helped to evolve the digital strategy. The UX agency created the user experience, user interfaces and developed the Drupal -driven website. This created a 'hub' for information about 'Uniting The Movement', making it easy for the Sport England team update the 10-year vision content.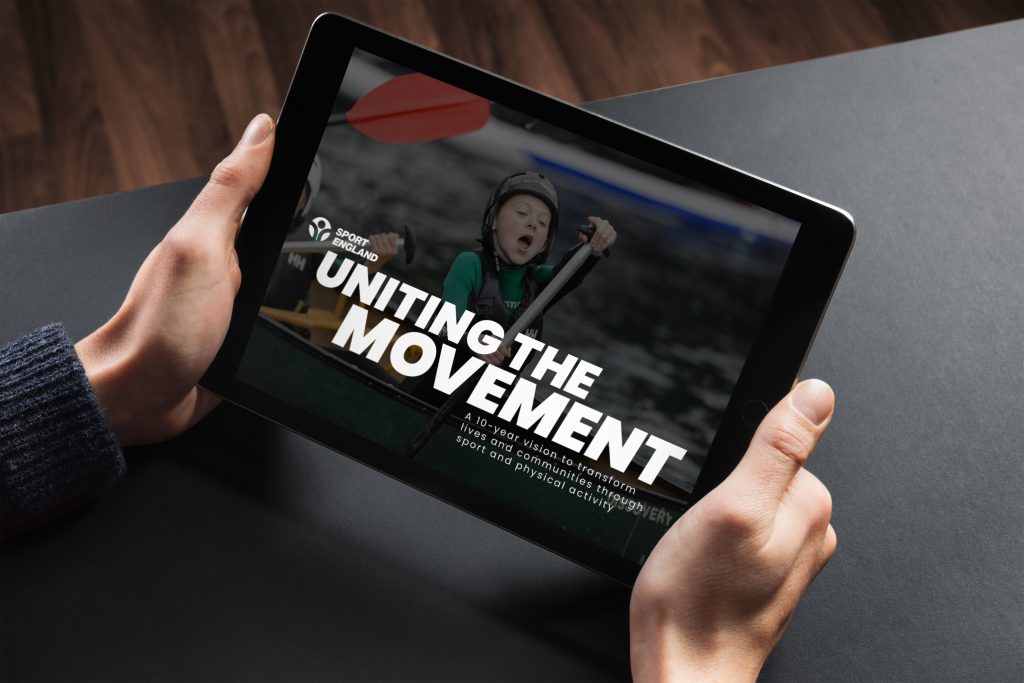 Cake Managing Director, Rosie Holden adds, "We understand the power sport and physical activity has to transform lives, and the significant role it plays in society. We're excited to be working with Sport England on the launch of their new 10-year strategy to inspire and unite Sport England's partners to come together to realise the potential that sport and physical activity has to tackle some big issues within society."
Kieron Molloy, Creative Director at Conran Design Group added that "It was a pleasure to work on something so vital at such a pivotal time in our lives. This strategy is a belief in the power of sport and physical activity's ability to transform our society for the better, so we needed a brand and a voice to match its boldness".
Cyber-Duck's Founder and CEO, Danny Bluestone highlighted that "the pandemic had an impact on all of us, transforming society. Working with Sport England has allowed us to reimagine what it is like to be an end -user of this content, so we have designed these pages for everyone in society. Accessible content about fitness and sport has to be a cornerstone of 2021".
Poppy Reeve-Tucker, Executive Creative Director of We Are Family said "Given the importance of the strategy and the impactful message that Sport England were looking to deliver, it was a pleasure to be asked to produce the virtual event that enabled them to share this with their audience."
Ali Donnelly, Executive Director of Digital, Marketing and Communications said: "Launching Uniting the Movement was a hugely important moment for everyone involved in sport and physical activity across England. Coming after almost two years of consultation involving thousands of people and hundreds of organisations, it represents our collective vision to use as a means to help the nation to recover from the pandemic and to ensure that everyone, no matter their background, feels able to be active and live a happy and healthy life. We were really impressed with how the all agency team delivered such a great quality, fully integrated launch to bring the strategy to life, under very tight timelines."
Source: Conran Design Group