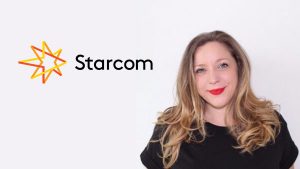 Amy Kean has been appointed as Head of Strategic Innovation, Starcom Global Clients. Amy will report into Jodie Stranger, UK Group Chief Executive and President of Global Network Clients, EMEA. She is responsible for delivering greater strategic direction to the innovation programmes for Starcom's clients across the globe. She will also work with the agency's media and tech partners to create a long-term vision for each brand.
Amy was previously VP of Strategy and Planning for Beamly, Coty's in-house digital agency, responsible for developing the planning process and strategy of the company. Amy has previously held senior positions in both Mindshare APAC working with clients like Kimberly Clark, HSBC and Nestle and Havas Media Labs in which she created the first media agency start-up hub in the UK.
Amy has also lectured at Bournemouth University, running its media strategy course. She has also taught poetry and creative writing across three continents. She was named one of BIMA's ten 'women in tech' and has frequently been named as one of The Drum's most influential people in digital marketing in the last few years.
Starcom has undergone rapid growth in the previous 12 months, with major international and local wins including Puig, Kraft-Heinz, FCA and Visa.
Jodie Stranger, UK Group Chief Executive and President of Global Network Clients, said: "'Innovation' has been a key tenet in media for a very long time. Amy's appointment will be instrumental in continuing to focus our agency on driving innovative solutions for our clients. Working closely with our various partners, we are setting out to take a strategic, data and human-led approach to deliver experiences between our consumers and brands. In all of our campaigns, we're looking to utilise the best technology has to offer, but we're keen to ensure this fits with a brand and its business goals. In doing so, we are ensuring that our clients future-proof themselves and maintain their brand identity."
Amy Kean, Head of Strategic Innovation, Starcom Global Clients, said: "In today's marketing environment, media agencies are under increasing pressure to be faster and more efficient. It's important not to let this evolution to the agency model stifle creativity and innovation. Starcom has a fantastic track record in the tech space and brilliant client relationships, which make it the perfect place for fantastic, strategic work, and I'm looking forward to bringing my energy and experience to this agency and ensure we create some really impressive work."
Source: Starcom