River Island will stand against societal labels in its new SS18 campaign, created by integrated agency Studio Blvd and produced by sister company JN Production. The 'Labels Are For Clothes' ad campaign, runs from February 6th across TV, VOD, out-of-home, press, social and with influencers Daisy Lowe, Chanel Iman and Zack Miko.
The campaign seeks to raise awareness of the outdated and irrelevant labels people are given.
Labels have been pervasive in society for far too long, whether it's gender, sexual orientation, ethnicity, religion or others. Studio Blvd and River Island aim to banish labels to clothes, not people, positively celebrating the individual, whilst mocking those labels of old.
Shot by renowned photographer Richard Burbridge and director of-the-moment Lacey, the characters in the campaign are shown to be much more than the labels they have been given. The cast that feature in the campaign were found from around the world and all have suffered at the hands of negative labels. The campaign reflects the breadth of diversity and inclusive mind-set shared by River Island's audience, who no longer care about outdated labels.
Model and body confidence activist Sabina appears with the message 'DO NOT SHRINK', while committed couple Charlie and Bella are represented with the line 'DO NOT SEPARATE'. Born male, the glamorous Stav Strashko makes no bones about the fact she is '100% WOMAN'; Zara is of Pakistani heritage and Muslim, but born and made in Britain, she asks that you 'DO NOT STEREOTYPE'. Proving that age is but a number, Steven Lyon owns it as a 56-year-old 'MADE IN 1961' and Asianna who models both as man and a woman is '100% GENDER FREE.'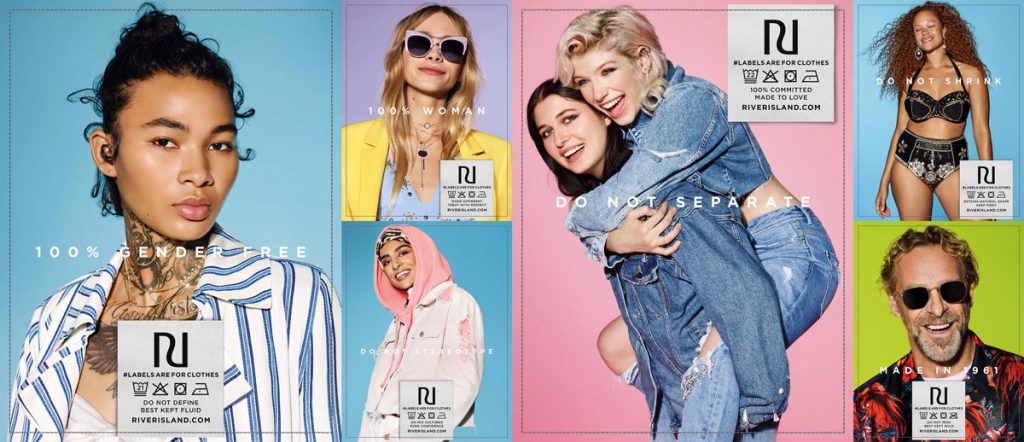 Alistair Green, CSO Studio Blvd. says: "River Island has always inspired people to express their individuality through their clothes, we wanted to take the brand a step further and get River Island to stand for something beyond fashion. Gender labels, cultural labels, racial labels, political labels, LGBTQIAP+ labels have been dominating cultural conversations in the UK and beyond. We encouraged River Island to join the conversation and celebrate the individual in their own unique way, using the tongue-in-cheek lingo of laundry labels sewn in their garments."
Josie Cartridge, Customer Director, River Island, says: We are celebrating the individuality and diversity of our brand and customers; we believe labels belong on clothes, not people. We knew Studio Blvd. were the perfect partner to create this campaign with us."
Callum Walker, Senior Art Director, Studio Blvd. says: "River Island has always been about being yourself and having fun. With this campaign we've celebrated diversity and promoted individuality by reappropriating clothing labels and by being bold through colour and energy. It's the perfect reflection of this forward-thinking brand."
The media planning and buying was handled by Manning Gotlieb OMD.
Source: Studio Blvd