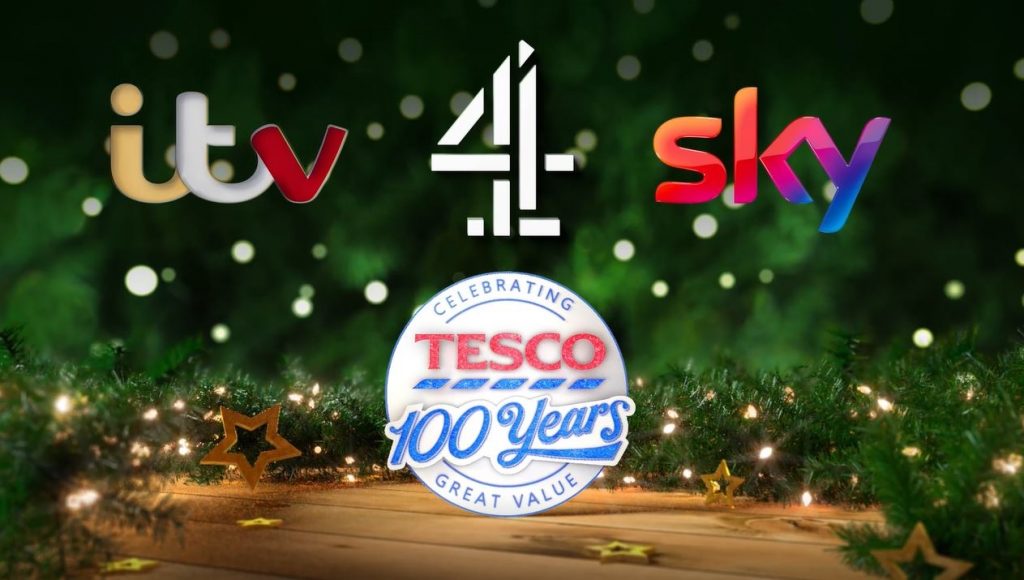 Today, Tesco and MediaCom will be launching a new campaign with Channel 4, ITV and Sky to feature a selection of their primetime shows in its latest Christmas ad campaign.
Tesco's existing Christmas advert, which first aired earlier this week, sees a Tesco delivery driver deliver Christmas through the years to celebrate its centenary and 100 years of great value.
To focus in on the present, MediaCom and Tesco have worked with the three major broadcasters to create new ten second clips from their talent and shows including I'm a Celebrity…Get Me Out of Here!, Hollyoaks, The Chase, A League of Their Own and Sky Sports' Soccer Saturday to air across all three stations. It is the first time a brand has brought all three broadcasters together in a creative commercial campaign such as this.
The ten second clips, produced by MediaCom and Somethin' Else, will be stitched together to form 'super spots', which will see talent and shows from all stations come together for the first time. The ten second ads will also be contextually placed to run during the shows which they feature.
The super spot will be preceded tomorrow by an ident which will uniquely feature all 3 Channel logs and Tesco, delivering Christmas to the nation in a roadblock at 21:15.
Nick Ashley, Tesco Head of Media and Campaign Planning said: "2019 marks 100 years of Tesco helping families up and down the country celebrate Christmas and good food is part of the magic that brings us all together. We're delighted to be working with the nation's favourite shows on this partnership. "
Neesha Taneja, Content Lead at MediaCom said: "Tesco's 100th year celebrations have been a major landmark for the brand, and we're delighted to have helped bring this campaign to life across the year. This partnership licenses IP and talent from flagship shows across Channel 4, ITV and Sky in a truly innovative campaign and is the first time the UK's TV shows have come together in this way – helping Tesco deliver yet more cultural milestones."
Jonathan Allan, Chief Commercial Officer at Channel 4 said: "Our latest collaboration with ITV and Sky is another example of how commercial broadcasters are working together to deliver reach and impact for advertisers. We're thrilled that Tesco took up the challenge of a joint broadcaster brief and that it has resulted in this brilliantly integrated, creative Christmas campaign. We look forward to more of these partnerships for brands in the future."
Rachel Bristow, Director of Planning at Sky Media said: "We're always proud to partner on campaigns that showcase the collective creativity and impact that TV has for brands. It's especially exciting to celebrate Tesco's 100th year using our channels' top talent including our own Chris Kamara and Jamie Redknapp, who bring a warm and humorous tone to the ads."
Simon Daglish, Group Commercial Director at ITV said: "ITV are delighted to be part of a unique partnership with Channel 4 and Sky to help bring to life 100 years of Tesco at Christmas. Which not only showcases a huge celebration of Tesco but also a unique collaboration of three of the nation's best loved broadcasters."
Source: Mediacom