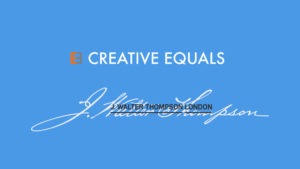 J. Walter Thompson London are partnering with CreativeEquals to launch the 'Female Filter' – a way of filtering the Cannes Lions winners so everyone can see in stark term just how few of them have female creative leads.
Once the winners lists from the Outdoor, Cyber and Film categories have been released they will be analysed for winning work with a female creative lead – if they don't have one, the campaigns will be filtered out. The results will then be delivered as short targeted animations across Facebook starkly illustrating the gender ratio in each list. From the 21st of June, you can see these posts here.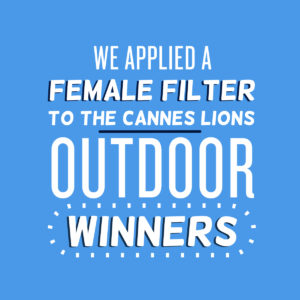 The Female Filter will drive interested visitors to the Creative Equals website, where they can sign the pledge to reach a 50:50 male/female ratio in their agency and make their demand for more industry female leaders. According to the Cannes 2016 'The Data of Creativity' report for the past decade female creative leadership has represented only 9.8% of the total global leadership.
Running concurrently to the #FemaleFilter, the Cannes festival will also see the launch of new joint research from the Geena Davis Institute on Gender in Media and J. Walter Thompson New York. The research which analyzed more than 2,000 films from the Cannes Lions archive, used automation to analyze gender representation in advertising, and found that men were shown on screen about 4 x more than women and speak about 7 x more than women. The research will be launched during the 'Skewing Females: The Truth about Gender Stereotypes in Ads' talk at The Forum in Cannes, on Wednesday 21st of June.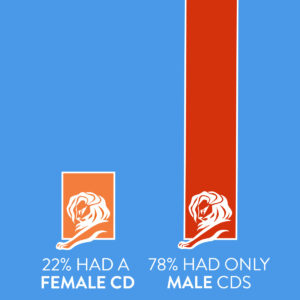 Kat Thomas and Simon Sworn, Creative Directors at J. Walter Thompson London, said:  "The need for more female leaders is clear. Every year we look to Cannes to set the industry standard, usually done by their winner lists. What it isn't so obvious is what is usually missing from those lists – the lack of female led work. It's not about lack of talent, it's about lack of existence. The 'Female Filter' will leverage the biggest annual industry event to highlight the need for more female creative leaders."
Ali Hanan, Founder and Director of CreativeEquals, said: "This 'filter' will highlight another data point that shows the lack of female representation in creative departments, which is what Creative Equals is here to change. While many brands talk about how creative work should reflect the modern world as initiatives like Unilever's 'Un-stereotype' show, the fact is when we shine the light about teams and those who make creative work entered for Cannes Lion, there is a long way to go in terms of equal representation. We need to un-stereotype ourselves… Let's use 2017's numbers are a benchmark to build from over the coming years. In 2018, we hope the 'Female Filter will significantly improve."
Source: J. Walter Thompson London