FAB Awards recognises the best in creative work for food, beverage and restaurant brands in over 60 countries and are the only awards programme that specialises on the great work done by food and beverage brands and their agencies.
"Although we liked our old logo, we felt that after 21 years, we needed a new one that reflects our special place in the creative industry. Our delicious new identity also means we bestow you with an entirely redesigned award's trophy" – N. Nayar, Chairman at The FAB Awards
"We collaborated with experts who manufacture exquisite hand-crafted material from recycled packaging. By using waste to create our prestigious awards, we hope we can change people's perceptions around recycled materials and unlock their hidden potential – turning rubbish into beauty."
"We really wanted our Award to be made out of recycled material. Garrick Hamm, Creative Director at Williams Murray Hamm loved the idea and the team at WMH have turned this into a reality."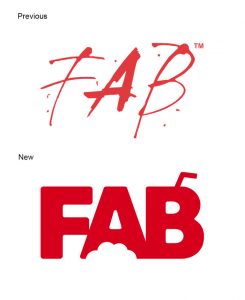 Garrick Hamm, creative director at WMH, said: "The old logo served FAB well, but it was definitely time for a new look. Working with FAB we quickly saw that they needed an identity with a bold personality that was, well, just as fab as they are."
Leading Brand Design Consultancy, Williams Murray Hamm have been behind the complete FAB Awards rebrand and the new awards trophies and was showcased at The 22nd FAB Awards "online" presentation on Thursday, 18th June.
Creative & Design Credits for The Fab Awards Rebrand
Jane Catchpole – Designer, Director; Jason Budgen – CGI animation, editor; Photography – Oliver Beamish @ Studio 4; Account Handlers – Wybe Magermans, Emmanuelle Hilson & Simi Sehra.
Garrick Hamm – Creative Director – Director.
Winning projects of The FAB Awards were showcased during an "Online" Awards Show on Thursday, 18th June on YouTube who sponsored The Brand/Marketer of The Year Award won by Burger King and The Agency of The Year Award won by INGO Stockholm. Pearlfisher was named Design Agency of The Year.
A Full List of Winner and Finalists of The 22nd FAB Awards can be seen HERE
Source: The FAB Awards