Mass shootings – particularly in high schools – have become a tragic fact of life in the US. So much so, there has even been discussions about using the government's educational funds to pay for guns and weapons training for teachers.
Creative directors on the project Niraj Zaveri and Justin Ebert wanted to do something about this. The two creatives, along with director and Nomad CEO Glenn Martin, all have parents who were once educators and thus know first-hand how much teachers care for the children they teach.
In a way, the students become extended families. And, while everyone agrees that something needs to be done to stop these tragedies, asking teachers to consider pulling a trigger on a student they're supposed to care for every day seems unthinkable and irresponsible. Yet, it's a solution that is being seriously considered by the US government. 
Given their personal connection with the subject, the team set out to create a film that highlights the heartbreaking reality of what the government is asking teachers to do. In a move away from humour or shocking visuals, they simply wanted to tell the truth and deliver the impossible magnitude of having to carry out such a request.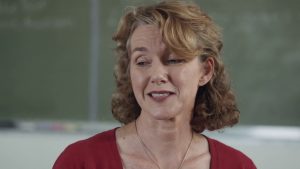 The spot sees a teacher lead viewers around her classroom, wistfully describing the students that sit at each desk. As she leads us to her own table, she claims: "They're my kids. You send them to me every day and trust that I'll keep them safe."
Glancing down into her drawer, she adds: "So I'll need to be prepared to protect them. But since I don't know if one of them will be a threat, I guess I have to be prepared to kill them, too."
After this shocking line, the school bell rings as the camera cuts to the inside of the teacher's drawer, lingering on a handgun she has hidden inside. 
Creative director Niraj Zaveri comments: "Arming teachers in classrooms is very quietly becoming a reality. And no one's talking about just what an insane idea that is. And what an incredible burden we're asking teachers to carry. So we wanted to create a film that calls attention to this issue. And hopefully inspires some discussion and a better solution for our schools."
Working with Nomad, the team wrote and released the film themselves under the #notinourclass hashtag on Twitter and Instagram, hoping to call attention to the issue and prove that it isn't a viable solution.
The spot aims to inspire viewers in the US to vote for candidates who have a more gun-smart strategy, acknowledging that 'teachers shouldn't have to learn how to kill' in order to keep school and students safe.
Source: Nomad