On June 19, German supermarket Chain PENNY launched its nationwide campaign for the PENNY store brand. The core element is a music video in which German celebrity drag queen Olivia Jones and other drag performers promote PENNY products. In a theatrical drag dance and music revue, they whisk viewers away to a magical stage world filled with oversized PENNY products. The video was directed by Finnish Director Viivi Huuska, who is a part of the drag Queen scene both as a performer and director, and her brother is known on the scene as drag Queen 'Cristal Snow'. 
Heidi Kabel's Hamburg cult hit "Das gibt's nur auf der Reeperbahn", which inspired Todrick Hall's 'Nails, Hair, Lips, Heels' was specially reinterpreted as "Wer günstig will, muss PENNY" – "If you want it cheap – ob-vi-ous-ly it's PENNY". The filming location was the PENNY store "Kiez" in Hamburg's red-light and entertainment district the Reeperbahn – a well-known district where local celebrity Oliva Jones has often performed.
Stefan Magel, Divisional Director Trading Germany REWE Group and COO of PENNY: "We have been successfully positioning ourselves as a neighborhood discount store for years. But as a company, we also stand for openness, tolerance, and respect. It is no coincidence that we are launching our campaign during Pride Month 2021. With this campaign, PENNY combines both of these aspects. Our message is: PENNY is for everyone. But we also want to show that saving can be fun and an exciting experience all on its own. We offer high-quality food at low prices every day."
Christoph Everke, Creative Managing Director of Serviceplan Campaign: "Cheap doesn't have to be boring at all. We wanted to show that anyone and everyone can use PENNY's store brand to 'drag up' their 'normal' everyday life, so that it becomes special and exciting – even with little money. And who better to embody such a colorful world than our campaign's star – Olivia Jones?"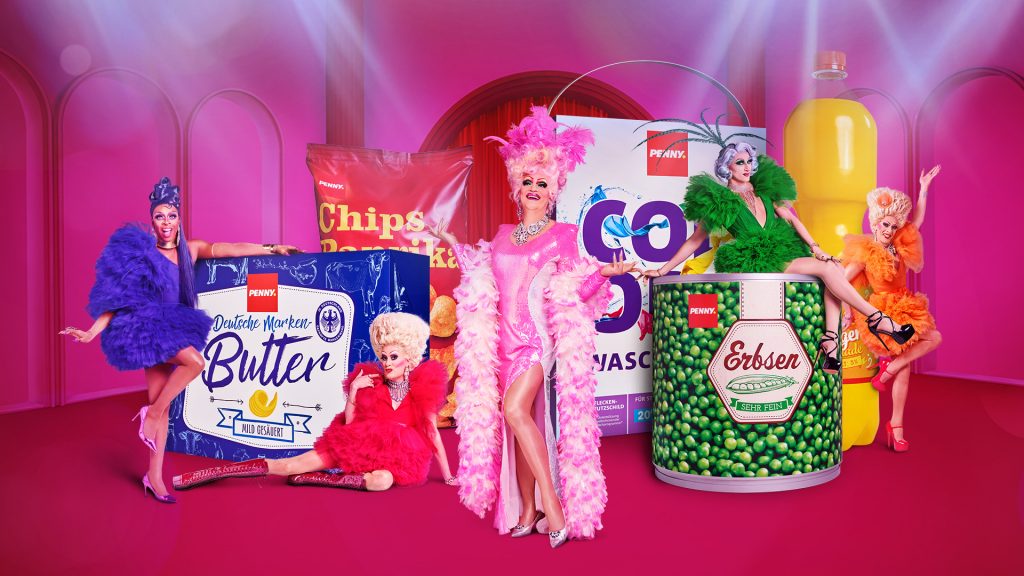 The campaign, brainchild of Serviceplan Campaign in Munich, is being implemented extensively across all communication channels. The spot can be seen on TV as well as online and on the PENNY Facebook and Instagram channels. It is accompanied by other individual campaign motifs in which the drag queens promote PENNY's store products. Under the hashtag, #dragupyourday, a TikTok dance challenge was launched to interactively inspire a young target group for the campaign. TikTok users will be called upon to dance to the campaign song – accompanied in their dance by a PENNY store brand product. 
Source: Serviceplan