VaynerMedia London has launched #FitMatters, its first campaign for global sexual wellbeing brand, Durex.
Durex's research found that 46% of consumers are not confident about buying the right condom. This often leads to purchases that don't fit properly, which contribute to the belief that wearing a condom reduces pleasure.
In making #FitMatters, Durex is pushing to shift that behaviour, while ensuring the message is inclusive and speaks to diverse communities that are exploring sex and sexuality their way.
The campaign features a wide range of influencers from sex positivity bloggers and podcast hosts, to comedians, couples making relationship content, health expert Dr. Emeka Okorocha and professional England rugby player and CALM ambassador, Joe Marler.
In their own personal styles, each partner is letting people know that different condom fits exist and that the right fit can make sex with a condom a lot more pleasurable.
Influencer content has launched on Instagram, TikTok and YouTube, and VaynerMedia London has also created work in (D)OOH and BVOD formats that launches today. The full list of campaign partners are: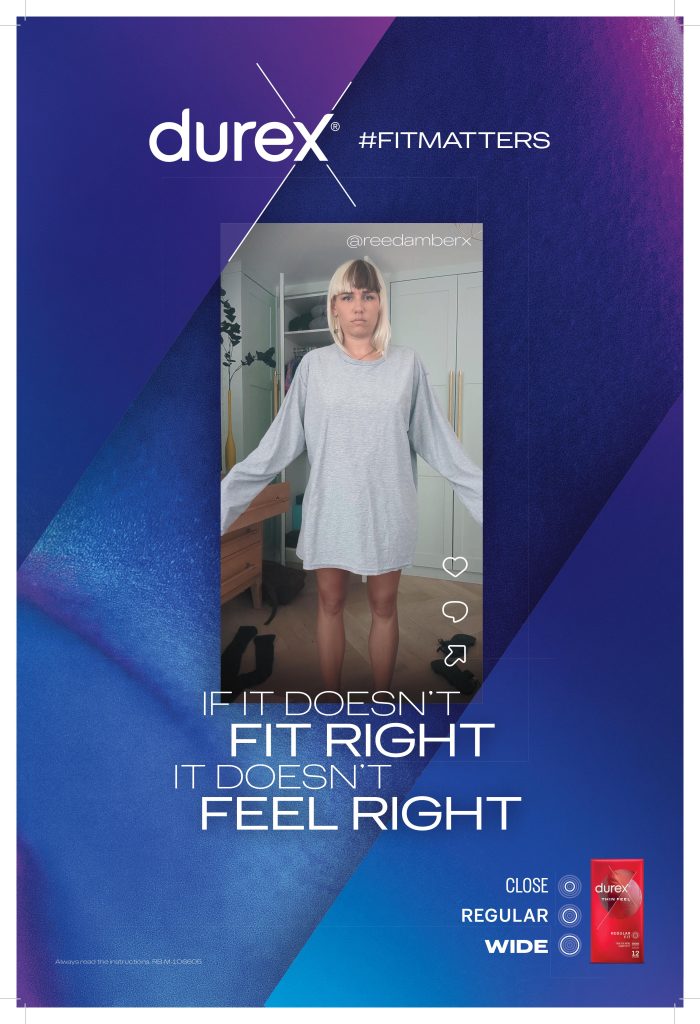 Daisy Domenghini, Head of Client Partnership at VaynerMedia London, said: "We always want to ensure our clients are linked to where attention is focused. Today's brands are built on social, so we've partnered with people who can talk authentically about this topic with different engaged communities, sharing their personal lives and playing around with the campaign line. And we haven't left the conversation there, we've also weaved their content into a bigger campaign launching across other formats, revealing the 'secret' that #FitMatters to as many people as possible."
Nikki Hayward, Category Marketing Manager, Intimate Wellness at Reckitt, said: "Our challenge is to transform the culture and conversations around condoms so that everyone can have empowering sexual experiences that build their confidence. Condom fit has never been a secret – it's been on our packaging for years – but we want to ensure the message is out there loud and clear, and we're delighted with VaynerMedia's approach to spreading the word. It's an open, honest, and fun campaign – just how talking about these things should be."
Source: VaynerMedia London