Virgin Atlantic and Barbie have teamed up on a multi-year partnership to show girls a variety of careers in STEM and aviation by reminding them that they can be anything. Originally created to show girls that they have choices, Barbie has had over 200 careers since her invention in 1959 and in the brand's 60th year Virgin Atlantic and Barbie are working together to spotlight different careers through a number of initiatives aimed at creating dialogue with girls and women about different careers through a 360° marketing campaign that includes social, PR and live events.
Finding that less than 5%* of UK pilots are women, the partnership launches #SeeHerFly this week, a powerful social campaign that spotlights how the female pilot emoji is one of the most underused career emojis on the keyboard – far less than its male counterpart. The campaign developed by We Are Social on behalf of Virgin Atlantic & Barbie, includes a video that asks users to share their role models alongside the hashtag #SeeHerFly and the female pilot emoji, to spark conversation that you can't be what you can't see – and by sharing female pilots through emojis, real-life role models and inspiring women will inspire the next generation of girls to be pilots.
Research has identified that starting at age five, many girls begin to develop limiting self-beliefs and doubt their full potential – this is called the Dream Gap. To champion change, Barbie launched the Dream Gap Project, an on-going initiative with the goal of levelling the playing field for girls globally. Barbie knows that showing girls more role models and telling their stories. This partnership is the next step in the brand's commitment to show girls more role models and tell their stories to help close the Dream Gap.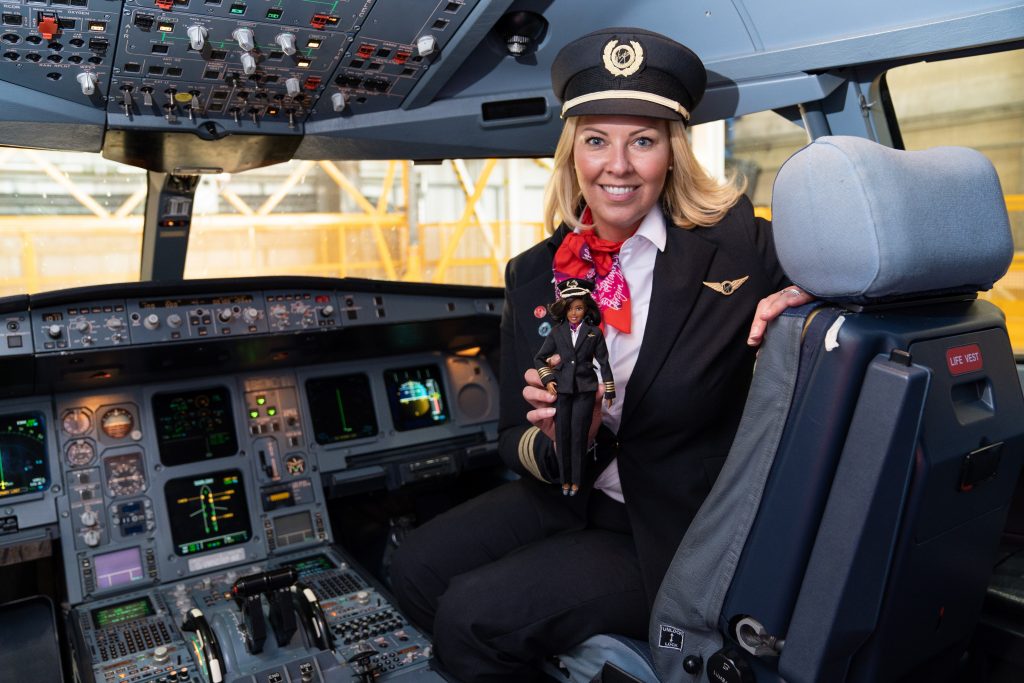 The campaign marks the start of a wider initiative at the airline to encourage more women to pursue STEM and aviation careers. Working with its charity partner, WE, the Passport for Change programme aims to inspire young people to engage with STEM subjects and consider a future in aviation. Virgin Atlantic and Barbie's dual mission to inspire girls through more careers include its Future Flyer open day at the airline's HQ, leveraging female engineers and pilots to show girls real role models, through school visits and trips to the airline's engineering hangars, by spotlighting STEM careers using Barbie one-of-a-kind dolls as an educational tool, showing inspiring on-board Barbie content, and a social campaign; #SeeHerFly.
Pilot and Crew dolls will also be on-sale from this month to further celebrate the partnership on-board all Virgin Atlantic flights, and online at www.retailtherapyshopping.com
Annabelle Cordelli, VP Marketing at Virgin Atlantic, commented;
"This social campaign aims to spark conversations among young people and their parents, giving them the opportunity to question and challenge perception of gender roles within STEM careers from an early age. We hope to break down the perceived limitations on what girls can achieve, and help young women find a new point at which real discussions around their career options can take place. By working with Barbie, it allows us to speak directly to our future generation of aviation professionals, whether they aspire to be cabin crew, engineers or pilots."
Julie Jackson, Senior Brand Manager Barbie UK, commented;
"Ever since she was created in 1959 Barbie has shown girls careers, going to moon before man and being a Presidential Candidate long before a woman ever stood for US or UK office. As we make headway on our mission to close the Dream Gap, we work with partners like Virgin Atlantic to extend how we spotlight careers in new and innovative ways. We can all play a part in helping close the Dream Gap and #SeeHerFly."
For anybody looking to take the next step in their aviation career, Virgin Atlantic offers both cabin crew and engineering apprenticeships as well as a pilot cadet scheme. More information can be found at www.virginatlantic.com/careers
For further information on Barbie's Dream Gap Project to inspire the next generation visit https://barbie.mattel.com/en-us/about/dream-gap.html
Source – Civil Aviation Authority