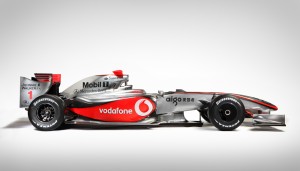 Vodafone will end its seven-year deal with Formula One team McLaren at the end of the 2013 season as it looks to shift all sponsorship activity to supporting local events.
The company says the cost of backing the team, believed to be £75m a year, was not a factor in its decision and it will look to back local events more directly rather than partner with other brands.
Vodafone has been McLaren's title sponsor since 2007. Prior to that it sponsored Ferrari. The group has also had deals with Manchester United and the UEFA Champions' League in the past. They were also sponsors of the England cricket team.
Vodafone believes its brand has less "need for this kind of exposure in the future" after its sponsorship activity helped it to achieve over 90 per cent awareness in all its markets.
The company is the latest in a raft of brands creating their own sponsorship platforms to boost customer engagement. Both Npower and E.On have recently announced similar initiatives, while Red Bull has been pursuing a similar strategy over the past few years.
A replacement sponsor for the telecoms firm has been secured by McLaren, however an announcement will not be made until the end of the year (2 December).
The announcement comes just days before the start of the 2013 Formula Season this weekend (16 March) in Australia.