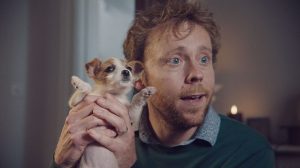 Purple Bricks teams up with Snap London, The Sweet Shop, and Stone Dogs to launch a new instalment of its 'Commisery' campaign. Following the success of last year's campaign, the three new comedic spots all feature the cringingly awful moment when bad advice is revealed from a well-meaning friend or family member.
Creatively devised by Snap London, each spot begins with characters acting suspiciously pleasantly towards friends or family. In 'Compliments', a man receives unexpected and strangely glowing compliments from his wife. In 'Heirloom', a doting mother bestows a family heirloom upon her daughter. In 'Puppy', a woman returns home to find her partner showering her with flowers, incense, and a new puppy. However, the true reason for their behaviour is soon revealed, as it dawns on the unlucky friends and family that this misleading 'guidance' has cost them thousands of pounds in commission.
Snap London enlisted full-service post production house, Stone Dogs, to bring the films to completion. The team at Stone Dogs completed the VFX on all three films, performing compositing and clean-up.
Dave Kiddie comments: "Stone Dogs is delighted to have completed the VFX on the latest in the series of Purple Bricks 'Commisery' films for Snap London. This latest project builds on our strong relationship with Snap London. As with previous work, it was a pleasure working with the creative team of Matt Hynds and Liam Wilson to bring 'Commisery' to life."
'Compliments', 'Heirloom', and 'Puppy' are now on air and online.
Credits
Creative Agency: Snap London
Producer: Catherine Long
Creatives: Matt Hynds and Liam Wilson
Production Company: The Sweet Shop
VFX: Stone Dogs
Producer: Joe West
Flame: Dave Kiddie
Source: Stone Dogs