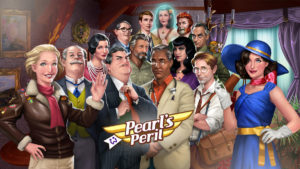 Wooga, a mobile game developer based in Berlin, has appointed HeyHuman to deliver a fresh proposition for the brands as well as social media initiatives for two of its games. The appointment follows a four-way competitive pitch and the work marks a significant shift in Wooga's strategy away from search and outbound marketing.
HeyHuman will support Wooga's hit game Pearl's Peril in the US and the launch of June's Journey in the UK at the end of August. The agency will take Pearl's Peril beyond its traditional audience of mainly women from the age of 45 and expand it to younger demographics, which research revealed as an untapped additional opportunity.
HeyHuman will grow Pearl Peril's social media following and aim to deliver increased downloads. It will do this via a Facebook brand awareness campaign, which will include a hero film, four second stills and visuals to engage the game's social media community. Activity will kick off mid-August.
The June's Journey campaign will take the same format as that for Pearl's Peril, but focused on the UK. Once results are available, Wooga will decide whether to roll out a similar strategy for all its games globally.
David Nixon, VP publishing at Wooga, said: "HeyHuman brings really interesting insights into customer behaviour and lets us speak to our players in new ways. For a mobile games company it's more and more important to understand their players and what role our games play in their lives. We really hope to expand our reach through exploring new creative territories in games marketing."
Neil Davidson, managing director of HeyHuman, said: "There is nothing we relish more than exploring the relationships people have with the brands they use. And there is nothing more exciting than helping to build value in those relationships for both parties, using an intuitive brain friendly approach. This is exactly the work we are doing with Wooga and we look forward to our work delivering measurable results."
Source: HeyHuman