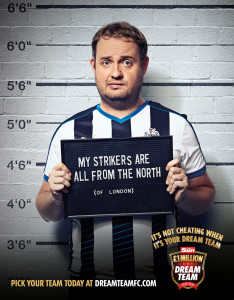 News UK is launching a campaign to raise awareness of Dream Team, the successful fantasy football game by The Sun which is open to all.
Wunderman has created work that will run across press, email, social and digital channels. Press advertising broke in The Sun on July 11 and will continue throughout the month-long player acquisition campaign. This will be supported by an ongoing retention programme to engage customers with the extensions of the Dream Team product and digital Sun offerings including Sun Goals.
Greg Halfacre, Audience Development Manager at News UK, said: "Dream Team is back and now more than ever, is a key pillar in The Sun's football package. We wanted to build on the core campaign idea created last year. This year's creative offers a fresh angle on the act of cheating when it comes to your Dream Team and shows fans reactions having been caught red handed."
The work is an extension of the award-winning 2014/15 season campaign which introduced the line 'It's not cheating when it's your Dream Team'. This was based on the insight that football fans, no matter how loyal to their own club, will still consider picking a player from a rival club in their Dream Team.
Wunderman's new campaign shows fans who've been caught in the act of club treachery represented in a mug shot scenario. So a Newcastle United fan admits: "My strikers are all from the North (of London)" while a West Ham United supporter is forced to concede: "I'm forever picking Terry" after selecting the captain of bitter rivals Chelsea.
The work will run in The Sun newspaper, Dream Team website, The Sun owned digital channels, The Sun social channels and paid media.
Josette James, Chief Client Officer at Wunderman said: "Those football fans just can't help themselves – we're back to expose the clubs cheats with another Dream Team campaign. This year's creative is a cheeky way to poke fun at the divided loyalties of fickle football fans. But remember, it's all OK in the end because 'It's not cheating when it's your Dream Team."
Wunderman's goal with the work was to introduce a fun element to Dream Team and remind readers why it's the best fantasy football game to be part of.