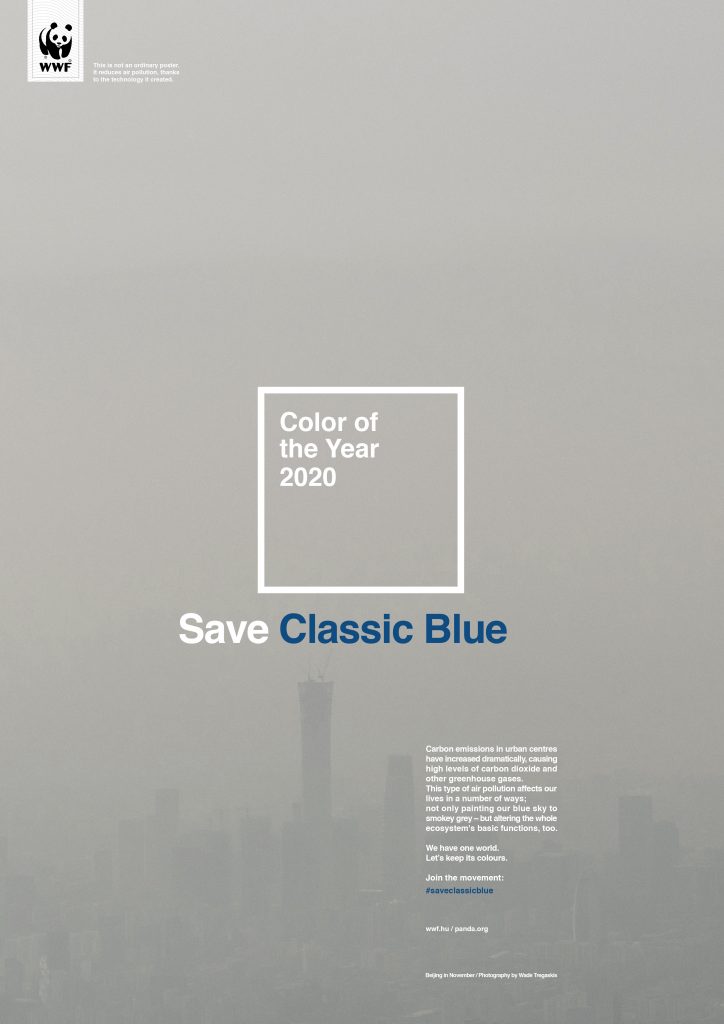 In 2019 it was Pantone's Colour of the year, the Living Coral that inspired WWF and their creative agency White Rabbit Budapest to come up with a campaign to raise awereness of endangered corals. 
Last week Pantone introduced the Classic Blue as their colour for 2020. According to Leatrice Eiseman, executive director of the Pantone Colour Institute, Classic Blue is "a boundless blue evocative of the vast and infinite evening sky" while also being a colour that challenges us to "think more deeply, increase our perspective and open the flow of communication". But this colour choice of Pantone offered just another chance for WWF Hungary to bring another acute environmental issue into the limelight: the global problem of air pollution.
"Unfortunately, the our world is in the grip of an air pollution crisis, that pervades our lives, making our environment dangerously toxic. So I think Pantone's Classic Blue colour highlights how fragile our ecosystem is; that behind every colour there's an alive, breathing nature – and it's our obligation to protect it as much as possible, explained Csaba Klacsán, Head of Communications, WWF Hungary.
However, their #SaveClassicBlue campaign is not only hijacking Pantone's Classic Blue colour-announcement; and it's definitely more than a simple continuation of their #KeepLivingCoral campaign. #SaveClassicBlue is starting a movement, inspiring people to act against air pollution by getting involved in their very own creative ways. So the campaign instead of a simple "storytelling" uses the technique of "storysharing".
With their new #SaveClassicBlue campaign WWF Hungary is also setting an example in the massive fight against air pollution: the posters of the campaign are created in a way that they are actually able to absorb pollution from the air. Thus way the media is more than just a channel to convey the message; it's also a technology that helps changing the Grey – back to Blue again.
The photo was taken by Wade Tregaskis.
The movement launched by WWF Hungary is spreading on social media with #SaveClassicBlue.
Source: White Rabbit