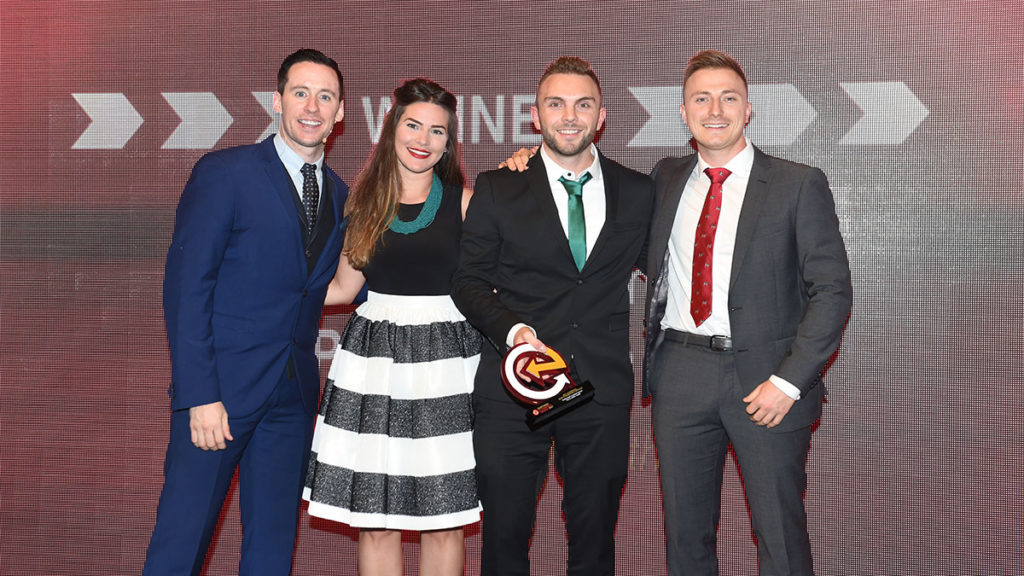 Digital marketing agency Ignition Search has picked up the top prize at the recent Northern eCommerce Awards in Manchester.
The Sheffield-based company won 'Best eCommerce Search/Marketing Campaign' for its revenue-boosting campaign on behalf of clothing company Pretty Green.
The strategy, described by judges as a 'definite stand-out campaign', saw Pretty Green's revenue for June 2017 increase 299% on the previous year. Ignition Search's improvements concentrated mainly on the clothing firm's pay per click performance — adverts that appear on search engines such as Google. The team's input was directly responsible for PPC revenues exceeding £1 million during that month, according to data collected.
Managing Director of Ignition Search, Dan Kavanagh, said: "Our strategy is a simple one: we use intelligent, data-led campaigns to target our clients' customer base, delivering market-leading results time and again.
"We are absolutely delighted to receive the award, which is a testament to the hard work and dedication of our staff across the whole of the company, and especially Liam, whose fantastic campaign won the recognition it deserves."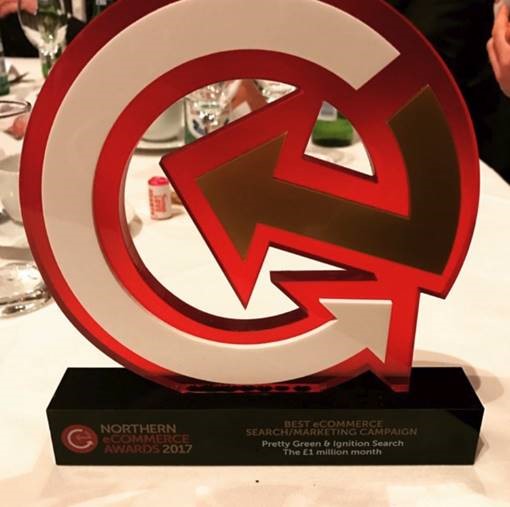 The Northern eCommerce Awards 2017 marked the end of day 1 of the eCommerce Show North, the biggest ever gathering of eCommerce companies, vendors and suppliers held outside London. This year's event took place on 11–12 October at EventCity, Manchester.
The show featured over 100 exhibiting businesses and up to 3,000 visiting attendees, making it the biggest eCommerce expo seen in the North.
The award ceremony was held at Manchester Cathedral and attended by around 300 guests. The winning campaign, run by Ignition's PPC eCommerce Manager Liam Goodwin, concentrated on using improved sales data to develop a Google advertising campaign that targeted the best-selling products offered by Pretty Green.
Part of Liam's strategy was to increase new customer orders with a strong focus on non-brand campaigns, which resulted in 60% of all online transactions being first-time orders. Pretty Green has also seen an increase in in-store visits since Ignition took over the campaign. A mark of the tactic's success was the huge increase in the return on investment that the music culture-orientated clothing store saw for every pound spent on internet advertising.
"Men's fashion is immensely competitive," said Liam.
"However, by understanding the target customer and their search habits we've been able to reach and surpass the revenue and ROI targets set by Pretty Green."

The success of the Sheffield firm comes on the heels of news that the city is to house a new £3.5 million incubator for digital start-ups.
The space, earmarked for former Co-op building Castle House, will become home to smaller tech firms focusing on software, hardware and design. The move is expected to boost Sheffield's already considerable reputation as a leader in the computer games and software sectors.
Source: Ignition Search