Digital-first video agency, Perspective Pictures, is producing a number of videos for Rolls-Royce's online campaign with the Royal Air Force. The project, called STARRSHIP, aims to inspire young people to get involved in STEM. The videos released online have already reached more than two million people.
This comes on the back of several new client wins for Perspective Pictures, which includes stand up paddle board retailer, BlueFin. The first production, which saw the Perspective Pictures team stand up paddle board down the Thames, was published online on 13th July.
Perspective Pictures, which was founded by 23 year-old Rupert Rixon in 2016 with £50 in his bank account, has also landed £150k in crowdfunding. This will allow the company to take things to the next level.
Rixon said: "It's massively exciting to be working with some of the most prestigious and innovative brands in the world. To think just a little more than two years ago we were working from a shed in my parents' back garden; now we're producing top quality digital-first video for clients across the world. 2018 has been an incredible year for us so far, which is testament to the fantastic team we're building here at Perspective Pictures. The funding will allow us to increase our capacity, boost sales and continue to produce the best videos possible."
Lizzie Parrott, Social Media & Marketing Manager at BlueFin, said: "We've found our experience with Perspective Pictures to be amazing all around. From the creative team who made our vision even better than the one we were imagining, to the friendly and approachable account managers that have made the entire process straightforward and enjoyable."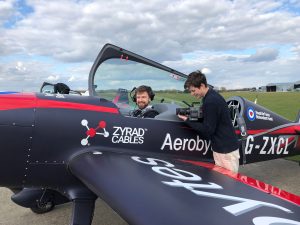 Based in Islington, North London, Perspective Pictures' aim is to create the most interesting and cinematic stories for brands in the digital and social age. Rixon believes brands need to stop posting TV-style video content online and expect people to engage with it.
He said: "Instead, they need to start working to produce more narrative-driven, well optimised and creative videos. Stop over-producing, stop ignoring the platforms, and start making something rad!"
What started out as a YouTube channel created by a 16 year-old Rixon, has since grown into an experienced team of eight – with an average age of 23.125 – who create dynamic digital ads, documentaries, music videos, crowdfunding films, 360 videos, and commercial promos across the UK, Europe, North America, Asia, and North Africa.
It has worked with more than 100 of the world's leading brands including the UFC, Island Records, Google, Sony, WEX, Segro and Brewdog. Projects have seen the team longboard across the US, hitchhike through India, ride a Boris Bike from London to wales and back and stand up paddleboard down the thames.
Source: Perspective Pictures