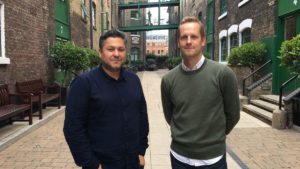 Above+Beyond, the independent creative agency for the audience age, has appointed Ed Cox to the new role of Media Partner.
He joins Above+Beyond from Havas, where he is the Managing Director of Forward Media, the agency Havas set up to manage the O2 business.
Cox has an extensive background in media, data, and integrated communications as well as experience in building and developing agencies. He was Managing Partner at Arena Media, where he led data-rich and audience-centric accounts including Tesco Bank, LG, and Next, before becoming MD of Forward Media and setting up Havas' newest media offering, Fullsix Media, last year.
The appointment follows Above+Beyond's recruitment in May of Creatives Ben da Costa and Nathalie Gordon, as the agency looks to break down the barriers between advertising and other entertainment and communications channels.
Zaid Al-Zaidy, Partner and Chief Executive of Above+Beyond, said: "Ed is an exciting new addition to the growing team at Above+Beyond. He brings with him an amazing pedigree in media, digital and data that will help ensure our ideas connect with audiences in meaningful and effective ways."
Ed Cox said: "I love the approach at A+B – it's an up and coming agency with a modern and fresh approach, and a load of diverse talent. I'm excited to see what we can achieve together."
Source: Above+Beyond