As part of their Justice for Women campaign, ActionAid UK have collaborated with brand experience agency Sense London to deliver the "Maze of Injustice", a unique event to illustrate the many barriers women around the world face when accessing justice for crimes committed against them.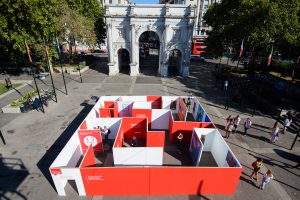 Running on 29 August in front of the iconic Marble Arch, ActionAid UK invited people to enter the maze in order to understand the harsh realities faced by women and girls attempting to seek justice for violence perpetrated against them.
One in three women worldwide experience violence in their lifetime, yet in the UK and around the globe, the legal odds are stacked against them with many never getting justice. An ActionAid survey, for example, revealed that more than two-thirds of women who have been sexually harassed did not report it to the police, with 50% saying this was because they believed it "would be pointless".
"The barriers to justice include deep-rooted misogynistic beliefs, outdated traditions and laws, and unaffordable legal costs, all of which were brought to life in ActionAid UK's Maze of Injustice using mirrors, dead ends and locked doors. But, key information, global statistics and Action Aid UK's success stories were also showcased to help visitors find their way through," explained Sense Account Director Diana Petre-Mag. "The effort of trying to find their way through the various barriers in the maze along with the shocking facts and statistics they encounter along the way immersed visitors in the frustrations and injustice many women continue to face with legal systems. It's something they were unlikely to have experienced before."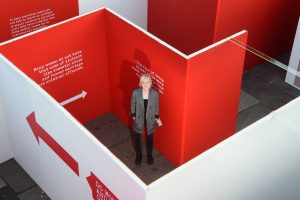 Action Aid UK was on hand to guide people through the maze and discuss all the issues highlighted in more detail.
Commenting on the experience, Jean Mclean, Deputy Director Media, Campaigns and Public Engagement at ActionAid UK, said: "The Maze of Injustice may shock, but we wanted to show the very real barriers women face when accessing justice for crimes committed against them. Women around the world are so often cheated by the justice system – abusers are protected while survivors are punished. In a week when we are supposed to be celebrating Women's Equality, we hope that people felt inspired to show solidarity with women and girls around the world and encourage them to sign up to our campaign to demand justice for women, no matter where they live."
Source: Sense London