and Chelsea have launched a YouTube and social campaign to promote the football club's new 2014/2015 home kit, which sees some of its players 'immortalised' as sculptures in their favourite 'Chelsea moment'.
The 'Forever Blue', campaign features a video narrated by manager, Jose Mourinho, and references 'iconic goals, saves and celebrations', showing five Chelsea players as they get smothered in plaster to create the sculptures.
The inhouse creative team at Adidas, alongside The Corner and Hill & Knowlton, have devised a campaign to follow on from last year's "It's Blue. What else matters?" imagery, sees the players eventually breaking free from their sculptures to reveal the new kit.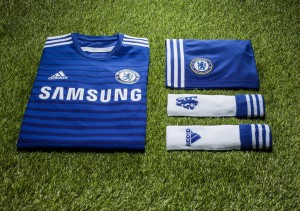 Adidas brand director, Nick Craggs commented on the new launch: "Chelsea Football Club is steeped in history. History is made with every goal, assist, tackle and clean sheet. The players at the club are adding new chapters to the history of the Premier League every week. Working with the players and identifying their moments over recent years in Adidas shirts, we have managed to create a compelling campaign that will remain with the club forever.
"It is not just about wearing the shirt; it's what you do in the shirt. For the fans. For the team. For the colour and for the future."
The new kit is available for pre-order on the Cheslea Football Club website ahead of its arrival in stores on April 30.