wants amateur footballers to follow their own path rather than try to emulate stars like Lionel Messi and Luis Suarez, kicking off a marketing campaign to trumpet the more grassroots-focused pitch.
Four time Ballon dOr winner Messi stars in a 60-second film that urges fans worldwide to "unfollow" him and develop their own playing style.
It continues the same creative themes introduced in the revamped football push and shows a young player watching clips and sharing posts of his idol, the Barcelona and Argentinean star.
Messi's achievements are summed up in a series of clips that range from President Barack Obama comparing himself to the player as well as cheeky nods to how the opposition are intimidated by the star.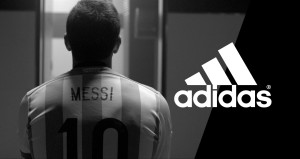 The ad builds to the amateur player acknowledging that while they admire Messi, they don't want to be him and want to "see what the world thinks of me and what I can create."
The theme of fan creation is key to Adidas revamped marketing strategy, with the latest ad bookended by a shot of players sharing a selfie with Messi. The sports brand has said it wants to involve fans more in its marketing in an attempt to give it more cut-through in a category where many of its rivals are trying to reflect the way football is now played in cities – on the streets.
Adidas has suffered dips in football sales in its last two quarters but remains confident upcoming efforts, which will also concentrate its efforts on six of the world's most fashionable cities. Another core part of the plan is uniting its biggest football clubs – Manchester United, Chelsea, Real Madrid and Juventus – under one brand banner for the first time.