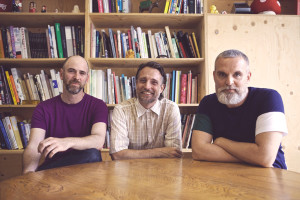 McCann Worldgroup and AllofUs have jointly announced that AllofUs, the UK interaction design and user-experience studio acquired in 2011, has been sold back to its principals. Terms of the transaction were not disclosed.
"McCann and AllofUs have enjoyed a terrific partnership over the last four years," said Mark Lund, CEO of McCann Worldgroup UK.
"But as we've increasingly emphasized the integration of digital across all of our capabilities, we recognized on both sides that AllofUs, which has been intact as a London standalone unit, would be better positioned for growth if it returned to independent ownership. We and they have gained a lot from the last four years, and we look forward to continuing to collaborate with their excellent teams on some shared client assignments.
AllofUs co-founders Nick Cristea, Orlando Mathias and Phil Gerrard remain at the helm and will continue to build on AllofUs' reputation for cutting-edge interaction design, creative technology and innovation. Simon Sankarayya [Sanky], the co-founder and art director, is leaving to pursue other opportunities but will retain a stake in the new agency.
AllofUs established itself as an early pioneer in the field of digital product and service design through its work on Sky TV's BAFTA-nominated iPTV platform Sky Player (now SkyGo), The Telegraph Media Group and Xbox Live. It has also won global recognition for its highly progressive approach to interfaces, demonstrated through award-winning interactive installation work for organisations including Nike, the Science Museum, Tate and Westfield.
More recent work includes projects for the British Museum, CapCo, Google (including the groundbreaking Project Soli), IKEA's mobile app, Nespresso, Tony Blair's Faith Foundation, Samsung and the V&A. AllofUs has also created a number of pioneering projects for tech start-ups, including a complete redesign of Russian brand Yota's dual screen smartphone last year.
Phil Gerrard, AllofUs co-founder and MD, said: "McCann has been brilliant and we have nothing but good wishes for them, but it's now time to try something new with AllofUs. Over the last few years we have increasingly adopted more hybrid product development techniques through our work for tech and start-up businesses. We want to build on this experience via a new operating model, so we can work as true partners, with a real stake."
McCann Worldgroup is a global leader in integrated marketing, including digital expertise that spans online advertising, social, website development, commerce and in-store and event activation. Recently awarded with 10 Cannes Lions, including 4 Gold, for its Make-up Genius mobile app for L'Oréal, McCann Worldgroup has also produced award-winning digital work for Coca-Cola, General Motors, Vodafone, and other global, regional and local clients.